Doctor Who: Dark Horizons
Author: Jenny T. Colgan
Genre: Fantasy/Science Fiction
Release Date: August 13, 2013
Publisher: BBC Books
Format: Paperback; 320 pages
Buy Link:
Amazon
Description:
"Now, you may or may not have noticed, but we appear to be on fire…"
On a windswept northern shore, at the very tip of what will one day become Scotland, the islanders believe the worst they have to fear is a Viking attack. Then the burning comes. They cannot run from it. Water will not stop it. It consumes everything in its path – yet the burned still speak.
The Doctor is just looking for a game on the famous Lewis chess set. Instead he encounters a people under attack from a power they cannot possibly understand. They have no weapons, no strategy and no protection against a fire sent to engulf them all.
Add in some marauding Vikings with very bad timing, a kidnapped princess with a secret of her own and a TARDIS that seems to have developed an inexplicable fear of water, and they all have a battle on their hands. The islanders must take on a ruthless alien force in a world without technology; without communications; without tea that isn't made out of bark. Still at least they have the Doctor on their side… Don't they?
A thrilling new adventure starring the Doctor, as played by Matt Smith in the acclaimed Doctor Who series from BBC Television.
Doctor Who: Dark Horizons is my first introduction to the world of Doctor Who - literary or otherwise. I've heard great things about the TV series, but I didn't quite know what to expect when I picked up this book. Needless to say, it surpassed any expectations I may have had and then some. The book is a wonderful mix of science fiction, fantasy, and some history as the Doctor heads back in time to mix with the Vikings and other interesting people of that era. If things couldn't get stranger - there's a fire that burns without any way to stop it. Water has no effect on it, people get put it out, and it's only spreading and causing destruction and mayhem in its wake. The Doctor must figure out what this fire is and what's causing it, if he ever wants to be able to extinguish it for good. The plot was really fascinating and I loved how it mixed in a science fiction storyline in a historical setting. The blending of the two made it very original and unique, which is a rarity these days. The characters were all well written, especially that of the Doctor. He's quirky, smart, resourceful and determined to find truth. I enjoyed getting to know his character for the first time with this novel. The writing was well done with a natural flow and a quick pace that had me hooked from the first chapter. There was action and adventure thrown into the mix for good measure, which only added to the complexity of the story itself. Highly recommended for fans of fantasy, science fiction, and - of course - fans of Doctor Who.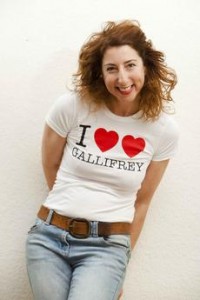 Jenny T. Colgan has written 13 bestselling novels as Jenny Colgan, which have sold over 2.5 million copies worldwide. In May 2013 she was awarded Romantic Novel of the Year, the Romantic Novelists' Association's (RNA) highest accolade, for "Welcome to Rosie Hopkins Sweetshop of Dreams" (published by Sphere).
A lifelong Doctor Who fan, at the age of 11 she won a UK fan competition to meet the Doctor and was mistaken for a boy by Peter Davison. Her favourite episodes are 'Silence in the Library' and 'Warriors' Gate'.
She currently resides in France with her young family.
Follow the rest of the tour:
Monday, August 26th: The Best Books Ever
Tuesday, August 27th: More Than Just Magic
Wednesday, August 28th: 5 Minutes for Books
Thursday, August 29th: Tiffany's Bookshelf
Friday, August 30th: A Chick Who Reads
Tuesday, September 3rd: Book Addict Katie
Thursday, September 5th: A Bookish Way of Life
Friday, September 6th: Giraffe Days
Monday, September 9th: Guiltless Reading
Wednesday, September 11th: Books a la Mode - Author Q&A and giveaway
Thursday, September 12th: No More Grumpy Bookseller
Monday, September 16th: A Dream Within a Dream
Tuesday, September 17th: Black 'n Gold Girl's Book Spot
Wednesday, September 18th: Luxury Reading