Welcome to my stop on the Siren's Song blog tour being hosted by Spencer Hill Press! I'm excited to start off the tour with my review of the book for you today!
Siren's Song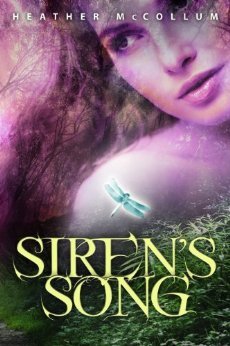 Author: Heather McCollum
Genre: YA Fantasy/Paranormal
Release Date: March 25, 2014
Publisher: Spencer Hill Press

Description:

Jule Welsh can sing. She enthralls people with her bel canto voice. But it takes more than practice to reach her level of exquisite song; it takes siren's blood running through her veins. Jule is starting her senior year at Cougar Creek High when her relatively normal world begins to resemble a roller coaster flying through a carnival scare house. Her mother is diagnosed as insane and committed, a psycho-stalker is snapping pictures of her to put into his homemade Jule-shrine, her voice is suddenly putting people into comatose trances, oh and the gorgeous new guy in town, Luke Whitmore, is interested in her . . . but also wants to kill her.
Siren's Song
is a totally enthralling young adult fantasy/paranormal novel that had me in it's grip from the very first words. It follows our heroine, Jule, who just happens to be a siren. Everything is going normal - as normal as it can get for someone like her who's a senior in high school - until everything turns upside down. Her mom is taken away because it's determined that she's insane, there's a creeper taking pictures of Jule for his stalkerish shrine to her, and now her voice is having a huge effect on people in town - like putting them in trances. On top of all this mayhem, there's a hot guy who just moved into town, Luke, and he likes Jule - but he wants to kill her too. What is Jule going to have to do for her life to go back to normal? Why does Luke want her dead? Will she be able to figure it out before everything breaks into complete chaos?
I found this to be an awesome mix of paranormal and thriller - two of my favorite genres. The story is full of crazy things going on that keep the reader guessing at what's truly happening until the end. I loved Jule as the heroine of the book. She's smart, down to earth, and determined - and also a siren. I enjoyed the mythology aspect of the story and all the details that the author included about sirens and their lore - I thought it was really fascinating and brought a new layer to the book that wouldn't have been there otherwise. Jule is faced with tons of obstacles throughout the book, some of which are scary and nerve-wracking, but she plunges head on without question in order to do what's right and set things back to how they should be. The author intertwined several genres in the book - namely paranormal, fantasy, and thriller - along with mystery, action, mythology, romance, and adventure, so it really has something to offer everyone and can't really be defined by strict genre labels. The plot was well thought out with a natural flow and vivid details and descriptions - all of which kept me burrowed in the pages until the very end. Overall, this is a great YA book that blends several genres - especially thriller and fantasy/paranormal - and I very highly recommend it to all readers. It's original and exciting with a bit of something for everyone.