Welcome to my stop on The Monster Within blog tour being presented by Spencer Hill Press! Today I have my review of the book to share with you - and don't forget to enter the giveaway!!
The Monster Within

Author: Kelly Hashway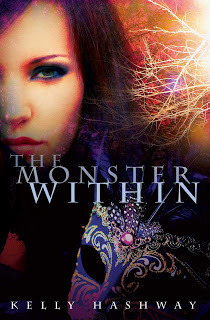 Genre: YA Fantasy/Paranormal
Release Date: June 17, 2014
Publisher: Spencer Hill Press

Description:

The moment seventeen-year-old Samantha Thompson crawls out of her grave, her second chance at life begins. She died of cancer with her long-time boyfriend, Ethan, by her side--a completely unfair shot at life.

But Ethan found a way to bring her back, like he promised he would. Only Sam came back wrong.

She's now a monster that drains others' lives to survive. And after she kills, she's tortured by visions—glimpses into her victims would-have-been futures had she not killed them. Barely able to live with herself and trying to make things right, Sam ends up a pawn in a vicious game of payback within the local coven of witches.

But when the game reveals what Ethan had to do to save Sam, she must make a choice that will change all their lives forever.
The Monster Within is a uniquely imagined story about a loving gesture turned horribly wrong. Samantha Thompson - Sam - died of cancer at the age of seventeen. Four days later, she climbs out of her grave and starts a new chance at life. Her boyfriend Ethan had promised he would do whatever it took to bring her back - and it seems like it worked. Sam and Ethan move to a small cottage in the mountains to start their new life together - and things seems to be going great. Only Sam isn't telling Ethan the entire truth - that she drains people of their lives so she can live; and after they die, she sees visions of futures that her victims will never experience now. Demanding answers, Sam seeks help figuring out what she is and how to stop killing. Things between her and the local witch coven begin to get out of hand - and Sam realizes that she's merely a pawn in a much larger and darker scheme than she ever could have imagined. When she finally realizes what Ethan had to do in order to bring her back to life, Sam must make the hardest decision of all - and it will be one that will change everything.
I love paranormal novels and the description of this book sounded incredibly fascinating. I loved that the author weaves myths and legends into the story line along with the black magic and occult. It gave the story an interesting depth and flowed together perfectly. Sam was a great - yet completely original - main character. It's not often that your main character is dead - or undead. I liked Sam right off - she's kind and loving and doesn't want to hurt anyone. She's terrified of what she's become and what she must do in order to survive. Her fears and flaws are bared for everyone to see - which made her more realistic and accessible to me as a reader. I absolutely loved the concept of the book - spinning together black magic, witches, myths, legends, and even some romance - it definitely sets itself apart from other books out there. I was fully immersed in the story and I loved discovering each little piece of the puzzle alongside Sam - and figuring out the true depth of the situation kept me riveted until the very end. The writing was well done with a fast pace and vivid descriptions that had me eagerly devouring each page to find out what was going to happen. Definitely recommended for fans of fantasy and paranormal fiction!!