Welcome to my stop on the LAILAH blog tour! Today I'll be sharing my review of the book with you - and don't forget to enter for a chance to win your own copy! To follow the rest of the tour, click on the banner above.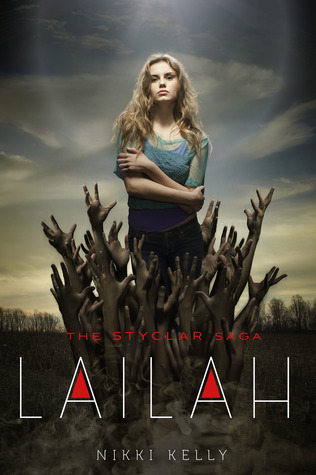 Lailah (The Styclar Saga #1)
Author: Nikki Kelly
Publisher: Feiwel and Friends
Release Date: October 7, 2014
Rating: 4.5 Stars
Synopsis:
The girl knows she's different. She doesn't age. She has no family. She has visions of a past life, but no clear clues as to what she is, or where she comes from. But there is a face in her dreams – a light that breaks through the darkness. She knows his name is Gabriel.
On her way home from work, the girl encounters an injured stranger whose name is Jonah. Soon, she will understand that Jonah belongs to a generation of Vampires that serve even darker forces. Jonah and the few like him, are fighting with help from an unlikely ally – a rogue Angel, named Gabriel.
In the crossfire between good and evil, love and hate, and life and death, the girl learns her name: Lailah. But when the lines between black and white begin to blur, where in the spectrum will she find her place? And with whom?
Gabriel and Jonah both want to protect her. But Lailah will have to fight her own battle to find out who she truly is.
Lailah
is the mesmerizing first book in a new young adult series that promises to have fans of the genre begging for more. It follows our main character as she goes about a normal day in one of her many new lives. She knows she's different from other people because when she dies, she doesn't stay dead. She comes back and must start her life anew somewhere else. When she dreams, she has flashes of past lives - but are they memories or mere fantasies? All she knows is that one person's face and name keep coming back to her - Gabriel. Her entire life changes the day she meets an injured Vampire on the way home after work. It's in her nature to be kind to everyone, so she offers to help him - even though she's aware of the extreme risk and danger she's putting herself into. As she tends to the vampire, he tells her his name is Jonah, and he's part of a group of vampires who have left their clan and want to gain back whatever humanity they have left. When she meets these friends Jonah speaks of, she learns that they are led by a rogue angel named Gabriel - the man from her dreams. She also learns her first and true name - Lailah. She decides that in life there isn't just plain black and white, but shades of grey in between - but where does she fall? In the end, it must be her choice and her battle to find out who and what she really is.
After reading the description for this book - rogue Angels, Pureblood Vampires, Second Generation Vampires, immortals - I was immediately intrigued. I did have pretty high hopes for this book because it sounded original and fresh. Gladly, I wasn't disappointed in the least. It lived up to my hopes and then blew them away. I loved every bit of this book - from the characters to the various settings and time periods, to the details and history of the vampires, the angels, and of Lailah herself. I couldn't get enough information about how the Vampires came to be and how things were in the clans, as well as the history of the angels - and most of all - the mystery of Lailah herself. I devoured this book in a few short hours because I couldn't - and wouldn't - stop reading until I had finished the final words. The characters were all well written with distinct personalities - complete with flaws and strengths like the rest of us. I loved getting to know Lailah and the other two major characters - Gabriel and Jonah - throughout the book. Watching them each grow personally along with their complex relationships with one another was fascinating. As I mentioned, the storybuilding was beyond fantastic. The vivid imagery along with all the details and descriptions really it really easy for me to fall into the book early on and I didn't emerge until the very end - and by that time I already was dying for more. I loved the plot - it was unique and different from most other stories out there, which is saying a lot due to the sheer volume of titles in the YA fantasy/paranormal genre. There were just a few times in the book that annoyed me for one reason or another - I can't even put them together collectively because they were each different reasons. That's the only reason that this book didn't get a full 5 stars from me. I know that by the next book, the author will have any kinks worked out and we'll all be fully blown away. I very highly recommend this novel to those who like YA paranormal and fantasy as well as readers who are looking for a unique and refreshing story among those like it in the genre. I'm already dying for the next installment to see what will happen next. Now the hardest part is left - having to just sit and wait until it's released.
A short story, told from Gabriel's perspective, set in the Second Dimension (Earth) — 1941.
A short story, told from Jonah's perspective, detailing his journey to becoming a Second Generation Vampire.
I was born and raised only minutes away from the chocolately scent of Cadbury World in Birmingham, England. So it will probably come as no surprise that when I'm not dreaming in Vampires & Angels, I dream in chocolate! For the past ten years I have lived in West London with my hubby and two dogs, Alfie - the Pug & Goose - the Chihuahua.
LAILAH is my debut novel, and first launched in serial form to wattpad, a readers & writers community. Within just 6months, LAILAH had over a million reads and thousands of comments and votes.
Since then, The Styclar Saga has gone on to pick up a traditional deal with Feiwel & Friends, and LAILAH, the first book in the series is due for release on October 7th 2014.
These days I spend my time balancing my amazing job of writing fantasy fiction, with my other, very important role of Chocolate Connoisseur. I like to multitask and do the two together. It makes me happy.
Win (1) hardback of Lailah by Nikki Kelly (US Only)