Welcome to my stop on the blog tour for A DARKER PAST by Jus Accardo! Today I have my review of the book to share with you - and don't forget to enter the giveaway! To follow along with the rest of the tour, click on the banner above.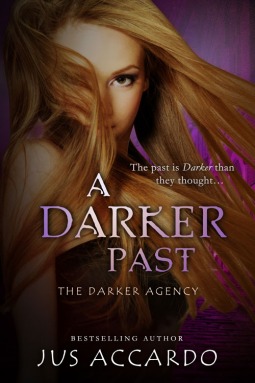 A Darker Past (Darker Agency #2)
Genre: YA Paranormal/Fantasy
Release Date: November 11, 2014
Publisher: Entangled Teen
Description:
The past is Darker than they thought...

Between helping her mother with the Darker Agency and laying the smack down on monster baddies, Jessie Darker puts the "normal" in paranormal. But lately, things have gotten a little crazy...even for a smart-assed half-demon teenage girl.

For starters, Jessie's been contracted into fifty-five years of annoying servitude. To a demon. Then there's Lukas Scott, her sexy new boyfriend. Once the former incarnation of Wrath, he's been going through some...uh, changes. Like residual anger. And trading chaste hangouts for lusty make-out sessions.

But it's when Lukas and Jessie accidentally release a Very Nasty Demon that things get really bad, setting into motion a chain of death and mayhem that threatens both Earth and the Shadow Realm. Jessie has exactly four days to fix it...before all of Hell breaks loose.
A Darker Past
is the exhilarating and fun second book in a young adult paranormal series. It continues to follow our leading lady - Jessie Darker - as she spends her time helping her mom with the family detective agency (which deals mostly with the strange or supernatural), spending time with her boyfriend Lukas (fresh out of entrapment in a small box for over 100 years and now turning into a demon), and running errands for Velafor - the demon she has to serve for the next fifty-five years. These daily occurrences are natural for Jessie and she's getting into kicking some real monster butt, along with managing her first relationship, when everything hits the proverbial fan. Jessie and Lukas accidentally break a mirror that was imprisoning a nasty demon who hates the entire Darker clan - and promises to rain down all sorts of hell if he doesn't get what he wants within four days. No pressure or anything. Now Jessie and Lukas have to figure out just who this demon is and exactly what it is he wants - before it's too late.
I absolutely adored the first book in this series and waited anxiously for this installment to release so I could see what Jessie would get into next. I had high hopes for the book considering how much I loved the first one - and I'm happy to say that it went above and beyond anything I could have wished for. It was just as fast-paced and exciting as the first, if not more so. Jessie continues to be an awesome main character. She's one of my favorite heroines actually, mostly due to her various personality traits. She's half-human and half-demon and (for some unknown reason) she inherited some of her father's demon abilities. When it comes to personality, Jessie has it in spades. She's witty, sarcastic, smart, devoted to her friends and family, and determined to kick some monster butt. On the other hand, she does have some bad traits - she can be incredibly pushy and stubborn with a habit of not letting things go. Which usually lands her in trouble of some kind. The book is told from Jessie's point of view, so the reader gets to know her on a really intimate level - more so than any other type of writing style. Because of this, we get to hear her snarky and hilarious inner dialogue (I found myself snickering a lot throughout the book) but we also get to see the hidden things about her - the hopes, fears, and doubts that she tries to hide from those around her. I loved getting to know Jessie even better in this book, along with watching her character continue to grow and mature in different ways - both normal human ways and part demon paranormal ways. I also loved watching Jessie's relationship with Lukas grow. I think the romance was the perfect amount - not too much to overrun the main story line, but enough to satisfy our demanding romantic hearts.
The plot was intense and full of almost non-stop action. It seems as if Jessie can't go five minutes without something happening - whether it's her fault or not - paranormal or not. She's like a magnet for these types of things. I loved getting to know more about the history of the Darker family along with the mythology involved in the series (with all the demons and their backgrounds and other details). I hope we continue to learn more about all of these things in the next book too. I believe it adds a depth to the series that helps to set it apart from others in the genre. Underneath all the paranormal bad guys and the magical problems, the book deals with some heavy topics that you don't really catch while reading it - probably because you're so wrapped up in the story. It talks about family - both good things and problems - relationships and love, friendship, determination, and not giving up. It adds a solid layer of deeper issues underneath all the fun and scary moments. The writing was phenomenal, as usual. I was immediately drawn back into Jessie's world from the first few sentences - and I didn't come back up for air until I finished reading the entire book; which happened to be only a few hours in one sitting. The tone was so conversational and it had such an easy flow that I lost myself and the time within the pages, and before I knew it - I had finished it. I seriously can't even begin to tell you how much I love this book and the entire series. It's got something for everyone - paranormal, fantasy, monsters, romance, action, adventure, humor, etc. I very highly recommend this book to everyone - especially fans of YA paranormal and fantasy fiction as well as those looking for a fun and original twist on the usual paranormal books out there. If you haven't read this series yet - do it now. I promise you won't regret it!
JUS ACCARDO spent her childhood reading and learning to cook. Determined to follow in her grandfather's footsteps as a chef, she applied and was accepted to the Culinary Institute of America. But at the last minute, she realized her true path lay with fiction, not food.
Jus is the bestselling author of the popular Denazen series from Entangled publishing, as well as the Darker Agency series, and the New Adult series, The Eternal Balance. A native New Yorker, she lives in the middle of nowhere with her husband, three dogs, and sometimes guard bear, Oswald.