Hey everyone! Welcome to my stop on the blog tour for The Girl at Midnight! Today I'll be sharing my review of the book with you - and don't forget to enter the giveaway to win your own finished copy!
The Girl at Midnight (Girl at Midnight #1)
Release Date: April 28, 2015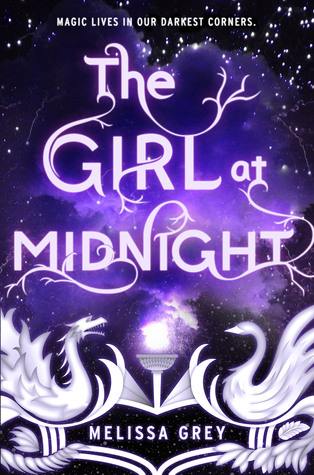 Publisher: Delacorte Press
Description:
Beneath the streets of New York City live the Avicen, an ancient race of people with feathers for hair and magic running through their veins. Age-old enchantments keep them hidden from humans. All but one. Echo is a runaway pickpocket who survives by selling stolen treasures on the black market, and the Avicen are the only family she's ever known.

Echo is clever and daring, and at times she can be brash, but above all else she's fiercely loyal. So when a centuries-old war crests on the borders of her home, she decides it's time to act.

Legend has it that there is a way to end the conflict once and for all: find the Firebird, a mythical entity believed to possess power the likes of which the world has never seen. It will be no easy task, though if life as a thief has taught Echo anything, it's how to hunt down what she wants . . . and how to take it.

But some jobs aren't as straightforward as they seem. And this one might just set the world on fire.
Praise:
"Sparks fly...This first novel will please fans of Cassandra Clare and Game of Thrones watchers with its remarkable world building; richly developed characters...[and] a breathtaking climax that...cannot come soon enough!"—Booklist, Starred
"Grey's energetic debut offers a strong protagonist... [this] well-built world, vivid characters, and perfect blend of action and amour should have readers eagerly seeking the sequel."—Kirkus, Starred

"A feisty heroine, fun supporting characters, a mission to save the world, and some seriously spicy romance."—School Library Journal

"Inventive, gorgeous, and epic--Grey dazzles in her debut."—Danielle Paige, New York Times bestselling author of Dorothy Must Die
The Girl at Midnight
was by far one of the most imaginative and original books I've read this year. The story follows the Avicen people - an ancient race that lives deep underneath New York City - and uses their magic to keep hidden from humans. Except for a little girl who comes across their seer late one night in the library. From that night on, the Avicen has been the only family that Echo has known - and she's incredibly devoted and loyal to them. She makes her way in life by stealing and then selling the items on the black market. Echo's known about the centuries-old war that's been going on since way before she was born. So when the war threatens to come to her home and involve her family, she decides that she can't just stand by. She remembers the myth of the Firebird - the one entity that has immense magical ability and is the only thing that can stop the war for good. Having been a thief for the majority of her life, Echo sets off to find and take the Firebird - no matter what it takes.
I was immediately intrigued when I read the synopsis for this book and knew that I had to read it. The story was entirely unique and I absolutely loved every page of it. Our main character, Echo, was an interesting choice for a heroine. I loved how the author immediately shows the reader that Echo isn't anywhere near a perfect person - we learn right away that she's a thief. Aside from her bad habits and flaws, Echo has several redeeming qualities as well. She's smart, quick on her feet, determined, and incredibly devoted to the Avicen who took her in when she was a little girl. Her loyalty and love for these people is her driving force throughout the book. Once Echo learns that there's a threat to her adopted family, she doesn't hesitate to act. The Firebird is nothing but a myth, but it seems to be the only way to finally end the war - and Echo decides that if it's real, she's going to find it and bring it back to save her people.
There's so much that happens throughout the novel that I can't possibly touch on all of it. I loved learning as much as I could about the Avicen people - their history, the war, their characteristics, everything. The author created such a realistic and magical world for the book that I felt like I was inside the book alongside Echo the entire time. I was able to connect with Echo right from the start and was sucked into the story after the first couple paragraphs - and I didn't want to come back out after I was finished. The novel is a fantastic mix of several genres, which will appeal to readers of all kinds. There's action, adventure, fantasy, mythology, magic, paranormal, and contemporary topics. Since the story is told from the third person point of view, we don't get to know Echo or any of the other characters on a very personal level. I really wish that it had been written in first person POV with Echo as the narrator - her character is layered and getting a better look into her thoughts and emotions would have made it a much deeper experience for me. That's my personal opinion, of course, as I always prefer the first person POV for fiction. Surprisingly, I was able to really identify with Echo during the story and found myself slipping easily inside the novel despite the third person POV. The writing was phenomenal on all levels. The author used vivid imagery and detailed descriptions to create Echo's world - which definitely helped me envision it all so well. The pace was quick and picked up even more speed as the story progressed. It has a natural flow and nothing felt forced or fake, which is saying something considering the fantasy and mythology aspects. Overall, this was one of the best books I've read this year and a new favorite of mine. I'm ridiculously excited that this is just the first in a series - I can't wait to see where things are going to go. The only negative part is the long waiting for the next installment. Very highly recommended for fans of all genres, especially action/adventure, mythology, and fantasy. You definitely don't want to miss this one!!
*
A huge thanks to the wonderful people at Delacorte for sending me a copy of the book for review & allowing me to host a giveaway!*