Welcome to my stop on the blog tour for Persuasion! Today I'll be sharing my review of the book with you - and don't forget to enter the giveaway! To follow the rest of the tour, click on the banner above.
Persuasion (Heirs of Watson Island #2)
Genre: YA Fantasy/Paranormal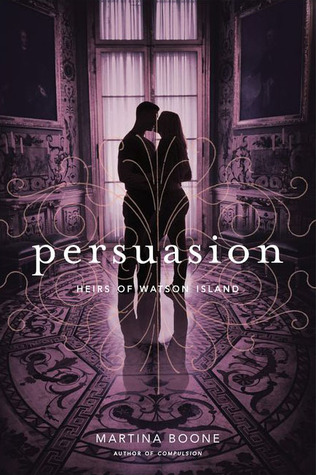 Release Date: October 27, 2015
Description:
Beautiful Creatures meets The Raven Boys in the spellbinding second novel in the Heirs of Watson Island trilogy that "skillfully blends rich magic and folklore with adventure, sweeping romance, and hidden treasure" (Publishers Weekly, on Compulsion).
Grieving the death of her godfather and haunted by her cousin Cassie's betrayal, Barrie returns from a trip to San Francisco to find the Watson plantation under siege. Ghost-hunters hope to glimpse the ancient spirit who sets the river on fire each night, and reporters chase rumors of a stolen shipment of Civil War gold that may be hidden at Colesworth Place. The chaos turns dangerous as Cassie hires a team of archeologists to excavate beneath the mansion ruins. Because more is buried there than treasure.
A stranger filled with magic arrives at Watson's Landing claiming that the key to the Watson and Beaufort gifts—and the Colesworth curse—also lies beneath the mansion. With a mix of threats and promises, the man convinces Barrie and Cassie to cast a spell there at midnight. But what he conjures may have deadly consequences.
While Barrie struggles to make sense of the escalating peril and her growing and forbidden feelings for Eight Beaufort, it's impossible to know whom to trust and what to fight for—Eight or herself. Millions of dollars and the fate of the founding families is at stake. Now Barrie must choose between what she feels deep in her heart and what will keep Watson's Landing safe in this stunning addition to a series filled with "decadent settings, mysterious magic, and family histories rife with debauchery" (Kirkus Reviews, on Compulsion).
Persuasion
is the enchanting second installment in a young adult paranormal series that will leave readers begging for more. The story picks up where the first book left off - Barrie returns to Watson Island to find the plantation overrun with ghost hunters and reporters all trying to get a piece of the paranormal action and the story of lost treasure. When Cassie hires a team of excavators to dig up the land beneath the mansion - they find a lot more than they bargained for. Then a stranger with magic shows up on the island and convinces Barrie and Cassie to cast a spell on the ground beneath the mansion - but what they've conjured might just prove to be deadly.
After reading and loving the first book in this series so much, I have to admit that I was both incredibly excited and a little wary to read this book. I was afraid that it wasn't going to live up to the expectations and hopes and I had from the first one. Luckily, I didn't need to worry. Unlike some second installments in series, this book was just as good as the first - and continues to keep this series at the top of my all time favorites list. Barrie continues to be a great main character for the series. She's intelligent, determined, devoted, and willing to do anything to protect who and what she loves. We get to see her character grow even more in this book - both emotionally and mentally. I enjoyed watching her handling difficult situations with a more level head and with greater maturity. The bit of romance threaded throughout the novel continued to be juicy - I loved watching Barrie and Eight together as their relationship continues to grow and change. Cassie remains another great character in the story and seems to be the one always causing trouble for Barrie.
The plot was once again original and full of fascinating twists and mystery. I always try to figure out what's going to happen next or what's really happening in a story before the characters do, but I wasn't able to do that with this book. There were lots of turns and surprises sprinkled throughout the novel, which is always a huge plus for me. I was easily pulled back into the world of Watson Island from the very beginning of the book, and I didn't resurface until I had finished the entire things - which ended up only taking a few hours since I couldn't stop reading. The author's writing style along with the detailed descriptions and imagery made the book come to life right before my eyes - it felt like I was right there beside Barrie while everything happened. I absolutely adored the Southern Gothic feel that it has - I think it brings everything together perfectly and adds that certain "je ne sais quoi" to the series as a whole. Overall, this is a magnificent second book in a phenomenal series that continues to surprise and impress me. I'm eagerly awaiting the release of the next book - the wait being the only downside (why does it have to be so long?!). I very highly recommend this book and series to fans of the genre along with those who enjoy fantasy, paranormal, ghost stories, mysteries, and suspense/thrillers. If you haven't read these books yet - do it - now! I promise you won't be disappointed.
Martina Boone was born in Prague and spoke several languages before learning English. She fell in love with words and never stopped delighting in them. She's the author of SIBA Book Award nominated Compulsion, book one in the romantic Southern Gothic trilogy, the Heirs of Watson Island, which was an Okra Pick by the Southern Independent Bookstores Alliance, a Kansas State Reading Circle selection, a Goodreads Best Book of the Month and YA Best Book of the Month, and an RT Magazine Best of 2014 Editor's Pick. The second book in the trilogy, Persuasion, will be published in October 2015.

She's also the founder of AdventuresInYAPublishing.com, a three-time Writer's Digest 101 Best Websites for Writers site, the CompulsionForReading.com book drive campaign for underfunded schools and libraries, and YASeriesInsiders.com, a site devoted to the discovery and celebration of young adult literature and encouraging literacy through YA series. She is also a founder and permanent mentor at 1st5PagesWritingWorkshop.com, helping to shepherd aspiring writers into the publication process and help them find the right starting point for their novels in progress, Locally in her home state of Virginia, she is on the board of the Literacy Council of Northern Virginia, helping to promote literacy and adult education initiatives.

She lives with her husband, children, and a lopsided cat, she enjoys writing contemporary fantasy set in the kinds of magical places she'd love to visit. When she isn't writing, she's addicted to travel, horses, skiing, chocolate flavored tea, and anything with Nutella on it.
Giveaway Details:
(1) Winner will receive THE DAUGHTER OF SMOKE AND BONE Series signed by Laini Taylor, signed personalized copies of COMPULSION & PERSUASION, a charm bracelet, and a jar of the sweet potato mustard that is on the cosmic dog in Compulsion - US Only!