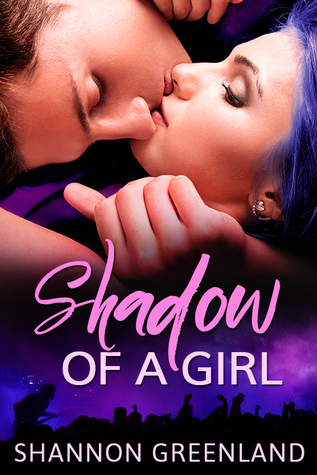 Shadow of a Girl
Author: Shannon Greenland
Publication Date: September 19, 2016
Publisher: Entangled Teen
Description:
Use cash and keep moving.
After I ran away from home, these were the two rules that dictated my life. Scoring a job as a roadie fit perfectly for what I needed. Traveling, cash, and life out of the spotlight. But when my path collides with West, the lead singer of Bus Stop, I can't seem to stay out of his spotlight—especially since we'll be touring together for an entire year.
West is determined to break down my walls. He won't give up. And little by little they come crumbling. But if he knew what lurked behind them, he wouldn't be so eager to get rid of them.
The more time we spend together, the more the lines of our friendship become blurred. He makes me dream of things I never thought possible. But while our friendship has been evolving into a romance, my secrets have been closing in. And just when I've decided to reveal my past to West, I'm confronted by it. The cost of my freedom could ruin the life of the guy I love…
Shadow of a Girl

is a sweet and heartfelt novel about the power love can have to change your whole life. I don't normally read contemporary romance, but I'm so glad I gave this one a chance. The plot wasn't wholly original - it seems like a lot of books are revolving around a big musician guy falling for an ordinary girl. Which is exactly what this story is - but it's also so much more. Eve is a wonderful main character and her story broke my heart. She's strong, brave, and determined not to let her past ruin her life. The story is told from the first person point of view, with Eve as the narrator. I'm a huge fan of this writing style because I think it gives the reader a really personal connection with the narrator. That's exactly what happened with this book. Eve was incredibly realistic, from her fears and insecurities to her finally letting herself be happy and fall in love. I

connected with

her from the very beginning of the story, and I loved watching her grow into the person she wanted to be. There's a lot of really hard situations that she has to face, but she has a great amount of inner strength that she doesn't even realize is there. Her character is very well rounded, as are the rest of the major characters in the book. The author did a fantastic job bringing these people to life in front of my eyes - it felt like I was right beside Eve throughout the whole novel. Or as if she was telling me about it herself. That's a huge part of why I love the first person point of view so much. I don't do spoilers in my reviews, so I can't really go into the plot much. It's a moving story that had my emotions on a roller coaster ride the entire time. I definitely recommend this book to fans of the genre or to readers looking for a

realistic look at life and love.
Shannon Greenland is the award winning author of the teen spy series, The Specialists, and the YA romance, The Summer My Life Began. She also writers thrillers under S. E. Green. Shannon grew up in Tennessee where she dreaded all things reading and writing. She didn't even read her first book for enjoyment until she was twenty-five. After that she was hooked! When she's not writing, she works as an adjunct math professor and lives on the coast in Florida with her very grouchy dog. Find her online everywhere @segreenauthor.
(3) Winners will receive a $10 Amazon Gift Card