Just Under the Clouds
Author: Melissa Sarno
Genre: MG Contemporary
Release Date: June 5, 2018
Publisher: Knopf Books for Young Readers
Description:
Can you still have a home if you don't have a house?

Always think in threes and you'll never fall, Cora's father told her when she was a little girl. Two feet, one hand. Two hands, one foot. That was all Cora needed to know to climb the trees of Brooklyn.

But now Cora is a middle schooler, a big sister, and homeless. Her mother is trying to hold the family together after her father's death, and Cora must look after her sister, Adare, who's just different, their mother insists. Quick to smile, Adare hates wearing shoes, rarely speaks, and appears untroubled by the question Cora can't help but ask: How will she find a place to call home?

After their room at the shelter is ransacked, Cora's mother looks to an old friend for help, and Cora finally finds what she has been looking for: Ailanthus altissima, the "tree of heaven," which can grow in even the worst conditions. It sets her on a path to discover a deeper truth about where she really belongs.
Just Under the Clouds
is a heartfelt middle grade contemporary novel that fans of the genre are sure to love. This is pretty far from my regular reading picks, but I'm glad I gave it a shot for the blog tour. I ended up liking it a lot more than I thought I was going to. It was a quick and easy read - I finished it in a couple of hours. Everything about the book was well done. The characters were realistic with unique personalities and traits - especially the main character, Cora. We get to know her pretty well throughout the book since the story is told from her perspective. Cora is a great main character for the novel. She's a loving sister and daughter, she misses her dad, she loves to learn about plants and trees, and growing things. She has some bad traits too, like all of us, and those helped to round out her character and make her easy to identify with right away. The story was both sad and happy, full of heart and family, and realizations that not everyone has to make in life. It teaches great lessons as well - that the saying "home is where the heart is" can be true. It's not a physical house or place that makes a home but the people inside. I really liked that Adare, Cora's sister, has some disabilities. It sheds light on that topic along with the others and also shows us how life can be like living with someone with the same type of issues. Overall, this was a great book and I definitely recommend it to fans of MG, contemporary fiction and realistic fiction.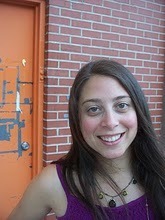 MELISSA SARNO
is a freelance writer and editor with an MFA in screenwriting. She writes about middle-grade books for Barnes & Noble's BNkids blog and edits YA and children's book reviews for Cleaver magazine. Read more about her at melissasarno.com. Follow her on Twitter and Instagram at @melissasarno.