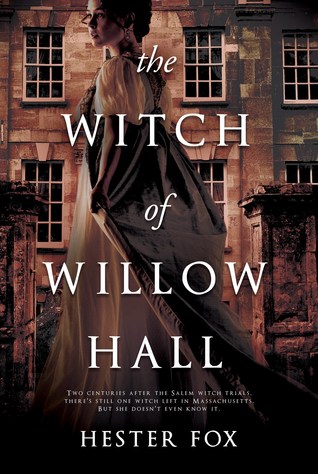 The Witch of Willow Hall
Author: Hester Fox
Genre: Historical/Fantasy/Paranormal
Release Date: October 2, 2018
Publisher: Graydon House
Description:
Two centuries after the Salem witch trials, there's still one witch left in Massachusetts. But she doesn't even know it.
Take this as a warning: if you are not able or willing to control yourself, it will not only be you who suffers the consequences, but those around you, as well.
In the wake of a scandal, the Montrose family and their three daughters—Catherine, Lydia and Emeline—flee Boston for their new country home, Willow Hall.
The estate seems sleepy and idyllic. But a subtle menace creeps into the atmosphere, remnants of a dark history that call to Lydia, and to the youngest, Emeline.
All three daughters will be irrevocably changed by what follows, but none more than Lydia, who must draw on a power she never knew she possessed if she wants to protect those she loves. For Willow Hall's secrets will rise, in the end…

The Witch of Willow Hall
is a wonderfully atmospheric novel that revolves not only around witches, but also love, family, believing in yourself, and doing the right thing even if it might not be the best in thing for you. It sounds a little confusing, but after you read the novel you'll understand what I mean. I absolutely loved this book and everything about it. I'm a huge fan of anything related to witches and magic, so I had to read this one. I'm so glad I did. This book had everything going for it - a fantastic historical setting, great characters, a twisty plot and a perfect ending.
The characters were all well rounded and complex, especially our main character, Lydia. I loved getting to know her throughout the story and to see her grow, change, and mature. The story is told from the first person point of view, from Lydia's perspective, which made getting to know her on a deeper level than other writing styles and seeing what she thought, felt, feared, dreamed, and so much more. I also really liked watching her relationship with John grow and change throughout the book. It was a nice addition to the story line and didn't overshadow the main plot, which I normally find to be the case. The plot line had a lot more twists than I anticipated, which I loved. I didn't see a lot of them coming, which made it so much more fun. It's a great fall read, especially around Halloween and I highly recommend it for fans of historical fiction, fantasy, paranormal, and romance.
Hester Fox has a background in the museum field as a collections maintenance technician. This job has taken her from historic houses to fine art museums, where she has cleaned and cared for collections that range from paintings by old masters to ancient artifacts to early American furniture. She is a keen painter and has a Master's in historical archaeology, as well as a background in medieval studies and art history. Hester lives outside of Boston with her husband and their two cats.
(1) Paperback copy of The Witch of Willow Hall - Open to US/CAN only!