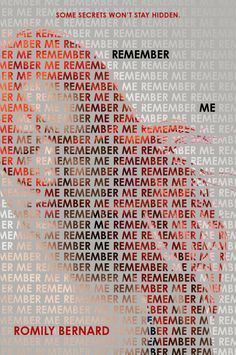 Remember Me (Find Me #2)
Author: Romily Bernard
Publisher: HarperTeen
Release Date: September 23, 2014
Read an excerpt
In the sequel to Find Me, Wick Tate, sarcastic teen hacker, is back and once again dealing with criminals and corrupt cops…and a brooding new love interest. Will Wick persevere when some secrets refuse to stay hidden?
Wick had thought her troubles were over.
But she should've known better.
Not only is she embroiled in a new murder case, which starts with a body with "Remember Me" carved into it and doesn't stop there, but she also discovers new evidence surrounding her mother's suicide…which leads her right back to her imprisoned deadbeat dad. And she has to deal with her flirty new hacker friend, Milo, sniffing around—which her boyfriend, Griff, isn't too happy about.
The pressure might be too much as secrets—including Wick's own—climb to the surface.
Remember Me is an edge-of-your-seat thrilling read that'll have readers turning the pages at lightning speed! The paperback of Find Me is on sale simultaneously, and a digital original novella from Romily, featuring Griff, is on sale just a few weeks before!
Remember Me
is the second book in a phenomenal and gripping young adult mystery/thriller novel that continues to follow our heroine, Wicket "Wick" Tate. Wick still doesn't trust anyone - definitely not since her mom died, her dad went to prison, and her foster father tried to kill her. Now Wick and her younger sister, Lily, have a new life - their foster mom, Bren, has legally adopted them. It seems like they have a fairy tale ending - except Wick doesn't believe in fairy tales. After the events of the previous months, Wick is just trying to adjust to her new role and life - and to be happy with Griff, the only guy who has ever made Wick feel safe and loved. Fate doesn't seem to care what Wick wants and she soon finds herself being blackmailed by a police detective named Carson into doing side jobs for him. The latest is digging into the life of a local politician to turn up dirt after his young assistant is found murdered with the words 'Remember Me' carved on her chest. Wick's on the case again, using her hacker skills to get to the bottom of things - but finds herself in over her head with a killer who is now after her and disturbing new details about her mother's death that has her head spinning. Can Wick solve the case before it destroys her and everything she's built? Or will the killer - or all the secrets - finally be too much for her?
OMG! I didn't think that this book could compete with the first one in the series - second installments rarely live up to the first. I love that I was completely wrong when it comes to this book. I adored the first book in the series and I couldn't wait to read this one. Since thrillers are one of my favorite genres and after reading (and loving!) the first book in the series, I had high hopes for this one. I was definitely not disappointed. The author weaves a taut and compelling story about a girl who supposedly eloped with her rich boyfriend years ago, only to have her skeleton discovered near their property. Things get even stranger and more dangerous when a young woman is murdered with the words 'Remember Me' carved into her chest - and our heroine's mission to stop the killer before he can get anyone else, including her. The plot was a fantastic mystery that had me guessing up until the end of the book, which doesn't happen very often for me. Along with the main story line and mystery, the story deals about other things that happened in Wick's life that have changed her - her mother's death, her father's drug dealing and prison sentence, Wick's relationship and trust issues, and how she's trying to manage her relationship with Griff. I think adding these smaller plot lines added a great depth to the book and helped to keep things moving quickly through the book. From the very first paragraph, I was able to slip right back inside Wick's world as if I never left - and things didn't slow down until the very end. The story is full of twists and turns, which kept me eagerly reading as fast as I could to see what would happen next. Just when I thought I might have things figured out, another twist would jump out and I'd be back at square one. I continued to love Wick as the main character in the series. She's smart, witty, and devoted to her sister, adoptive mom and Griff, but she is definitely flawed - trust issues, issues with her family and her past, and problems with authority. She's a great main character because she's realistic and believable. I also liked that she was a foster kid - I think that it adds a layer to the book that makes it more interesting and also helps to show how kids in the foster system actually think and feel, as well as how they are treated. All of the problems, running, hacking, and abuse makes Wick a complicated character that you can't help but root for in the end. The writing was incredibly well done with tons of vivid descriptions and intricate details that all discreetly led back to the mystery and who is behind it all. I am in awe of this author and her talent! I don't have very many authors who effect me this way, so on the rare occasion I find one - I go crazy over their books. I'm definitely fangirling all over this book, the series, and the author at this point. Overall, this was a magnificent second book in an addicting and thrilling YA mystery that will have fans of the genre (like me!) begging for more. Now I just have to wait for the next book to release....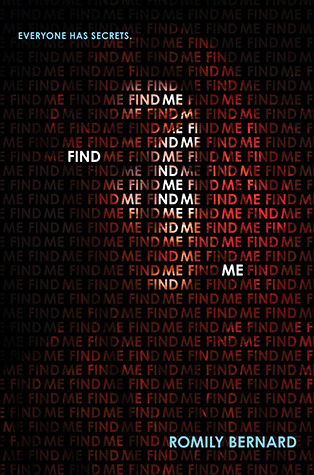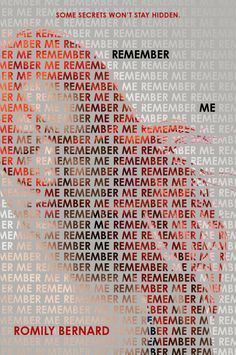 I graduated from Georgia State University with a Literature degree. Since then, I've worked as a riding instructor, cell phone salesgirl, personal assistant, groom, exercise rider, accounting assistant, and, during a very dark time, customer service rep.
So don't let anyone tell you a BA degree will keep you unemployed.
Win (1) of (2) signed paperbacks of Find Me + Remember Me by Romily Bernard (US Only)