Welcome to my stop on the official blog tour for The Vault of Dreamers! Today I have some great things to share with you - a tens list by the author, my review of the book, and an awesome tour-wide giveaway to enter! To follow the rest of the tour, click on the banner above.
The Vault of Dreamers (The Vault of Dreamers #1)
Author: Caragh M. O'Brien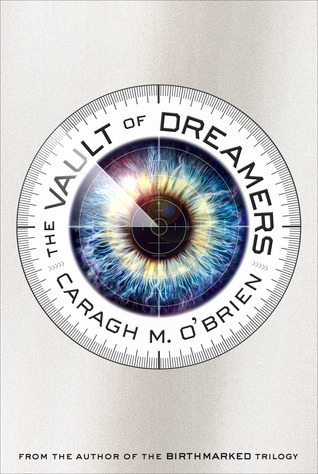 Genre: YA Science Fiction/Dystopia
Release Date: September 16, 2014
Publisher: Roaring Brook Press
Description:
From the author of the Birthmarked trilogy comes a fast-paced, psychologically thrilling novel about what happens when your dreams are not your own.

The Forge School is the most prestigious arts school in the country. The secret to its success: every moment of the students' lives is televised as part of the insanely popular Forge Show, and the students' schedule includes twelve hours of induced sleep meant to enhance creativity. But when first year student Rosie Sinclair skips her sleeping pill, she discovers there is something off about Forge. In fact, she suspects that there are sinister things going on deep below the reaches of the cameras in the school. What's worse is, she starts to notice that the edges of her consciousness do not feel quite right. And soon, she unearths the ghastly secret that the Forge School is hiding—and what it truly means to dream there.
Thanks, Stephanie, for having me by A Dream Within A Dream. Your site feels like a perfect stop for me on the Vault of Dreamers Blog Tour! It's hard to limit myself to 10 books that have influenced and inspired me because many books have been important to me at different times. Nevertheless, I'll give it a try.
Top Ten Most Influential/Inspirational Books
1. A Girl of the Limberlost, Gene Stratton-Porter
2. Pride and Prejudice, Jane Austen
3. I Know Why the Caged Bird Sings, Maya Angelou
4. The Awakening, Kate Chopin
5. Of Mice and Men, John Steinbeck
6. The Elements of Style, Strunk and White
7. On Writing, Stephen King
8. The Call of the Wild, Jack London
9. Anthem, Ayn Rand
10. Twilight, Stephenie Meyer
Thanks so much for stopping by and sharing some of the most inspiring and influential books for you Caragh!
The Vault of Dreamers
is the thrilling first book in a new young adult science fiction/dystopia series. It follows main character Rosie Sinclair as she tries to go about life as normal at the Forge School. Only the school isn't just for education - it's also the hit reality program, Forge Show. Every waking moment of the student's lives are on camera and streamed live to millions of watchers at any given time. After the fifty cuts - where they eliminate fifty of the incoming sophomore students in one night - Rosie thinks that she'll feel more comfortable at Forge and be able to focus on what she really came for - a fantastic education. The students at Forge sleep for twelve hours a day - in order to enhance creativity. They achieve this amount of sleep by taking a special sleeping pill each day - one that knocks them unconscious until the following morning, where the cycle starts all over again. Rosie hates the sleeping pills and decides to stop taking them within the first ten days of being at Forge. The things that she sees at night are disturbing and Rosie begins to suspect that there's more going on at Forge than they let on. Her intuition is confirmed when the edges of her consciousness begin to feel weird and not like herself. It's only then that Rosie will discover the true meaning behind the school's motto about dreaming.
After reading the description of this book, I was immediately intrigued and knew I had to read it. It sounded authentic and unique - like nothing I've read before. The author blended several different genres together - science fiction, thriller, dystopia, adventure, fantasy, mystery, and even romance - to create a novel that is truly one of a kind. I do admit that it took a few chapters for me to really get into the story. I was a bit bored at first - the story seemed like a normal dystopian novel about a futuristic school and so on. But once the plot picked up speed - it didn't slow down until the very end. Rosie is a fantastic main character for the book. She's smart, artistically gifted, kind, as well as focused and determined to get the best education she can so she can better her future. She has other qualities that come in handy throughout the story - she's wary of the school and the show, questions just about everything, and has to find out the answers to everything she's concerned about. That's definitely a perk because it's because of these distinct qualities that allow her to not follow the crowd and to see what's really going on at Forge. I loved watching her character grow and mature in a variety of ways and I hope we get to see more of that in the next book too. The plot, although a bit boring for me at the beginning, was thoroughly unique and a true breath of fresh air for the entire young adult audience. There was a ton of stuff going on during the book - twists and turns, creepy things in the night, strange feelings of losing your mind, and knowing there's a really dark secret at the bottom of it all (to name a few things). The writing was exceptional and the book had a really fast pace once it got going. I seriously couldn't read this fast enough. I devoured each page to find out what in the world was going to happen next. I couldn't stop until I finished the whole book and finally figured out all the secrets and answers; which only ended up taking me 3 to 4 hours at most. Once I was drawn into the world the author created, I felt like I was right beside Rosie during the entire story - experiencing everything along with her. The author's ability to write a complex and unique storyline with a quick pace and amazing attention to detail really highlights her exceptional talent as a writer. I was already dying to read the next book as soon as I finished this one - the wait is going to be terrible. I couldn't recommend this book more to fans of all genres, as there's a bit of something for everyone and the story alone is something that every reader should experience. Read this book - NOW!
Caragh M. O'Brien is the author of the BIRTHMARKED trilogy and THE VAULT OF DREAMERS, both from Macmillan/Roaring Brook Press. Born in St. Paul, Minnesota, Ms. O'Brien was educated at Williams College and earned her MA from Johns Hopkins University. She recently resigned from teaching high school English in order to write young adult novels. For more information, visit http://www.caraghobrien.com.
(2) Winners will receive a Copy of The Vault of Dreamers by Caragh M. O'Brien.
Giveaway is open to International. | Must be 13+ to Enter