Hey everyone! Welcome to my stop on the blog tour for THIS BOOK WILL CHANGE YOUR LIFE! I have some great promotional material to share with you today - and don't forget to enter the giveaway! To follow the rest of the tour, check out the schedule at the end of the post.
This Book Will Change Your Life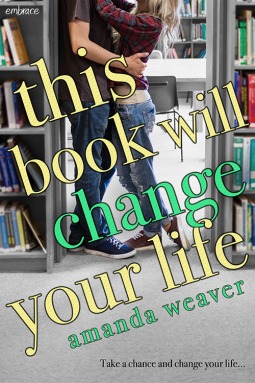 Author: Amanda Weaver
Genre: New Adult Contemporary Romance
Release Date: September 28, 2015
Publisher: Entangled Publishing

Description:

College is where Hannah Gregory plans to follow in her dad's footsteps as a chemistry prodigy–except she bombs her first test. And now her future isn't so certain. Worse, she's not sure she wants it anymore. Salvation comes from an unlikely place—a used bookstore and the sexy Ben Fisher, the passionate college senior who works there.

Ben is trapped in a life mapped out for him. Trapped in a future career as a lawyer to make his father happy. Trapped pursuing a girl he doesn't even like because she fits into a world he doesn't want but can't escape. But then he meets the beautiful and quirky Hannah. And for the first time, he knows what it means to truly want something.

So he gives in to being her friend. Then to wanting her. Then to kissing her. But freedom comes with a cost, and it isn't long before their carefully planned lives begin to fall apart...
Amanda has loved romance novels since she read that very first Kathleen E. Woodiwiss novel at fifteen. After a long detour into a career as a costume designer in theatre, she's found her way back to romance, this time as a writer.
A native Floridian, Amanda transplanted to New York City many years ago and now considers Brooklyn home, along with her husband, daughter, two cats, and nowhere near enough space.
Tour Schedule:
September 28th
Short and Sassy Book Blurbs: http://shortandsassybookblurbs.blogspot.com/ | Review Good Choice Reading: http://www.goodchoicereading.com | Interview
September 29th
Queekie Girl Reads: http://thequeekiegirl.blogspot.sg/ | Review
Book Reviews & More by Kathy: http://www.bookreviewsandmorebykathy.com/ | Promo
September 30th
A Dream Within A Dream: http://adreamwithindream.blogspot.com | Promo
Iridescent Lotus: http://iridescentxlotus.blogspot.com | Promo
October 1st
Books are Love: hello-booklover.tumblr.com | Promo
LeAnn's Book Reviews: http://shirleyfrancesbooksandmore.com/ | Review
Teatime and Books: http://www.facebook.com/teatimeandbooks | Review
October 2nd
Crystal's Chaotic Confessions: https://crystalschaoticconfessions.wordpress.com/ | Promo
Book Briefs: http://bookbriefs.net | Review