Welcome to my stop on the blog tour for Signs Point to Yes! Today I'll be sharing my review of the book with you - and don't forget to enter the giveaway! To follow the rest of the tour, click on the banner above.
Signs Point to Yes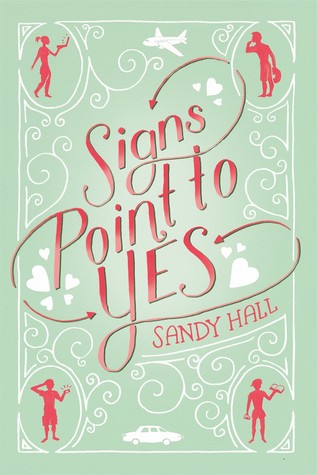 Author: Sandy Hall
Genre: YA Contemporary Romance
Release Date: October 20, 2015
Description:
The author of A Little Something Different brings you the most adorkable romance ever.

Jane, a superstitious fangirl, takes an anonymous babysitting job to avoid an unpaid internship with her college-obsessed mom. The only problem? She's babysitting the siblings of her childhood friend and new crush, Teo.

Teo doesn't dislike Jane, but his best friend Ravi hates her, and is determined to keep them apart. So Teo's pretty sure his plans for a peaceful summer are shot. His only hope is that his intermittent search for his birth father will finally pan out and he'll find a new, less awkward home. Meanwhile, at Jane's house, her sister Margo wants to come out as bisexual, but she's terrified of how her parents will react.

In a summer filled with secrets and questions, even Jane's Magic 8 ball can't give them clear answers, but Signs Point to Yes.
Signs Point to Yes
is a young adult contemporary fiction novel that fans of the genre will love to get their hands on. It follows our main character - Jane - as she begins her summer by dodging an internship with her mom at the college where she works by instead getting a babysitting job - one that just happens to be for their neighbor's daughters and the half sisters of her once best friend and new crush, Teo. Teo's not too excited about Jane babysitting his sisters either - he doesn't mind her, but his new best friend Ravi hates her and is going to make this summer terrible. Teo hopes that his renewed search for his birth father will finally produce results and he'll be able to move out of his house. Will anyone be able to have the summer the wanted - or will things turn out to be even better than they could've thought?
I don't read a lot of YA contemporary fiction, mainly because the majority of them all feel the same. In my opinion, they all seem to follow a set template that only changes in small ways with each story. This book wasn't any different from the others. Don't get me wrong - it was a good book with interesting characters and solid writing - but the bare story line underneath wasn't original at all. As I said, the writing was well done and the characters were decently rounded - if not a bit cliched at times (which follows my theory about the set template for the story). I knew what was going to happen before I even opened the cover. Again - this criticism is my opinion only and could be due to the fact that I'm not a huge fan of the genre itself.
The story touches on a lot of deep topics that will resonate with readers of all ages - especially teens. Some of the concepts the book touches on include love, acceptance, family, friendship and being yourself. The characters are realistic with distinct personalities and flaws, which allows the readers to easily connect with them early on in the story. Another aspect of the book that I didn't care for is the writing style - the point of view, to be exact. It's no secret that I firmly believe that a novel's POV can make or break it, and normally the first person is the best one for the author to use. This book was written in the third person POV, which is another reason I didn't really connect with the characters or the story. There wasn't any deep connection between the reader and the characters - and I think that's very important when it comes to this genre especially. If the story had been done in the first person POV from Jane's perspective, I probably would've had a better reading experience. Overall, this wasn't really a hit for me - but that's only because of my own personal preferences and issues. The book itself is well done and fans of the genre should definitely give it a shot.
I'm a teen librarian from New Jersey where I was born and raised. I have a BA in Communication and a Master of Library and Information Science from Rutgers University. When I'm not writing, or teen librarian-ing, I enjoy reading, slot machines, marathoning TV shows, and long scrolls through Tumblr. A LITTLE SOMETHING DIFFERENT is my first novel.

Author Links:
Buy Links:
Giveaway:
(1) Paperback copy of Signs Point to Yes - Open to US only!
http://bit.ly/1J4Uxev