Symptoms of Being Human
Author: Jeff Garvin
Genre: YA Contemporary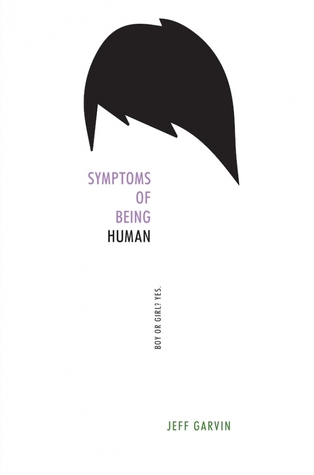 Release Date: February 2, 2016
Publisher: Balzer + Bray

Description:

The first thing you're going to want to know about me is: Am I a boy, or am I a girl?

Riley Cavanaugh is many things: Punk rock. Snarky. Rebellious. And gender fluid. Some days Riley identifies as a boy, and others as a girl. The thing is . . . Riley isn't exactly out yet. And between starting a new school and having a congressman father running for reelection in uber-conservative Orange County, the pressure—media and otherwise—is building up in Riley's so-called "normal" life.

On the advice of a therapist, Riley starts an anonymous blog to vent those pent-up feelings and tell the truth of what it's REALLY like to be a gender-fluid teenager. But just as Riley's starting to settle in at school—even developing feelings for a mysterious outcast—the blog goes viral, and an unnamed commenter discovers Riley's real identity, threatening exposure. Riley must make a choice: walk away from what the blog has created—a lifeline, new friends, a cause to believe in—or stand up, come out, and risk everything.
Symptoms of Being Human is a heartfelt young adult contemporary novel that addresses several concepts that are very relevant to today's society. The main character of the book, Riley, is gender-fluid - which means that Riley alternates between identifying with guys and girls. It's a hard life, especially when you're not "out," starting a new public school, and with a father running for re-election in a conservative county. Riley's hoping that the new anonymous blog about the truth behind being a real gender-fluid teenager will help deal with the overload of feelings, pressure to fit in, judgement, and so many other things. The blog does help - Riley makes new friends, is able to get thoughts and emotions out into the world, and is actually settling into school. Soon everything comes close to crashing down - someone has discovered that Riley is the person behind the blog, and is threatening to expose the truth. Should Riley quit the blog or finally come out and tell everyone the truth, possibly risking everything?
I don't read a lot of YA contemporary novels because I feel that most of the books are basically the same with a few details changed to appear different. There's also the big trend lately of books dealing with LGBT teens, which is a good subject to discuss and read about, but also means that even those titles are getting lost in the overload. I don't read many of these books, but it's enough to get a feel for the trends and the "template like" novels. Sadly, this book turned out to be just another generic YA contemporary novel for me. Please remember that these are solely my opinions and thoughts - it's nothing against the book or the author. I'm sure that fans of the genre will love this story and have completely different reactions than I did. The story was solid and well written with interesting characters - especially Riley. Being told from the first person point of view was the perfect choice for this book because it allows the reader to really get to know Riley as a person - thoughts, dreams, hopes, fears, everything. And since the subject matter is so incredibly personal in nature, it makes sense that the author would choose this perspective. The reader wouldn't get the deep personal connection with Riley that's needed for the book to have the desired effect if it were written in any other way. Riley's story is a roller coaster of both events and emotions. I've never read a book about a gender-fluid teenager before, so everything in the story was interesting and new for me. Although this wasn't the book for me, it was well done and fans of the genre should definitely give it a try.
Purchase Links:
Audible