Welcome to my stop on the blog tour for MY BEST FRIEND'S EXORCISM! I have a fun guest post by the author to share with you today - and don't forget to pick up a copy of the book now!!
My Best Friend's Exorcism
Author: Grady Hendrix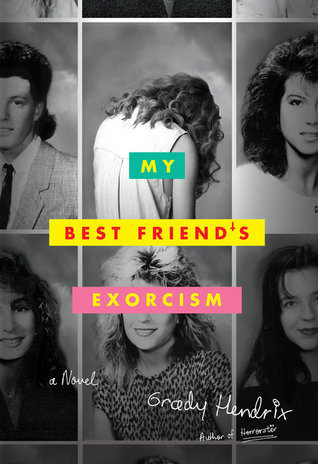 Genre: YA Thriller/Horror
Release Date: May 17, 2016
Publisher: Quirk Books

Description:

In 2014, horror novelist Grady Hendrix made a statement with Horrorstör, a classic haunted house novel set in Ikea that NPR named a best book of the year. Now, the author who, according to the Washington Post, "strikes a nice balance between comedy and horror" is back with My Best Friend's Exorcism. A heartwarming tale of friendship and demonic possession, My Best Friend's Exorcism takes place during the paranoia of the Cold War and Satanic Panic of the 1980s and is packaged in a high school yearbook format, replete with handwritten inscriptions on the endpapers.

High school sophomores Abby and Gretchen may hail from opposite sides of the tracks in Charleston, South Carolina, but they have been best friends since fifth grade, when they bonded over E.T. and roller-skating. Through the years they share secrets, a deep love of pop music, and inside jokes. These two BFFs are inseparable until an evening of dropping acid and skinny-dipping goes from innocent fun to a terrifying experience. Suddenly Gretchen is a completely different person—she is dismissive, unkempt, and cold (both literally and figuratively). And to make things worse, strange things keep happening whenever she's nearby.

Mutual friends see a difference in Gretchen's behavior but they're not nearly as concerned as Abby, who is dumbstruck by the drastic change in her best friend. Abby investigates what has happened, bringing her into contact with some utterly bizarre characters and ultimately leading her to a horrifying explanation: Gretchen is possessed by the devil.

Friends, relatives, and teachers all dismiss Abby's discovery. Determined and desperate, Abby enlists the help of a body-building bible thumper known as Brother Lemon. Not comprehending how powerful the devil can be, the two set off to exorcise Gretchen's demons and what ensues leaves readers with the question: Is Gretchen and Abby's friendship strong enough to beat the devil?

Like an unholy hybrid of Beaches and The Exorcist, My Best Friend's Exorcism blends teen angst, adolescent drama, unspeakable horrors, and a mix of '80s pop songs into a pulse-pounding supernatural thriller.
Praise:
"Hendrix was outrageously inventive with his debut novel (Horrorstör, 2014) and continues his winning streak with a nostalgic (if blood-soaked) horror story to warm the hearts of Gen Xers…. anyone interested in seeing William Peter Blatty's infamous The Exorcist (1971) by way of Heathers shouldn't miss it."
—
Kirkus Reviews, starred review
"Hendrix brings his blend of dark humor and horror back in this perfect balance of teenage dread and supernatural thrills."—Library Journal
"A huge win. It works as an exorcism thriller but feels like more than that, steeped in that particular coming ­of­ age sadness, feverishness, and joy."—Austin Grossman, author of Soon I Will Be Invincible and You: A Novel
"[Hendrix's] ability to fuse the fantastic into the familiar recalls the heyday of Stephen King..."
—
Sangria
E.T. Loves Your Mom and Jane Fonda Thinks You're Fat: The Bestsellers of the 80s
The Eighties were the era of the mega-novel, when Robert Ludlum's Aquitaine Progressions, and Parsifal Mosaics, and Bourne Identities were causing coffee tables to sag beneath their weight, Jean Auel's sexy cavewomen were earning her $25 million advances, and Tom Clancy's crummy little submarine book, issued in a tiny print run by the Naval Institute Press, became such a huge sensation that President Reagan insisted Prime Minister Margaret Thatcher read Clancy to better understand the Soviet Union.
But if any two people were the unchallenged prom king and queen of Eighties publishing it was Stephen King and Danielle Steel. Horror-monger King appears on the bestseller list 13 times that decade: twice in 1983, twice in 1985, and a shocking three times in 1987. When people took a break from his haunted cars, rabid dogs, and number one fans, they turned to Danielle Steel who has eleven bestsellers that decade, all full of glamourous women named Raphaella, and Liane De Villiers, and Zoya Konstantinovna Ossupov. No slacker, in 1985, 1987, and 1989 Steel had two books on each year's bestseller lists.
Some of these authors are lost to the mists of time. Has anyone picked up Jean M. Auel's Clan of the Cave Bear to read about steamy caveman sex in recent history? James Michener's deadly serious novels with their massive page counts, single-word titles (Space, Poland, Texas, Alaska, Caribbean), and decade-spanning plots hit the lists seven times in the decade, with Michener publishing a book practically every other year, but when's the last time someone read him for fun? And James Clavell, the author of that national conversation novel, Shogun, only published two books that decade, and both were at the top of the bestseller list. But seriously? When's the last time someone picked up a James Clavell novel? Or even mentioned his name?
Chances are we'll never see Westerns dominate the sales charts the way Louis L'Amour's did in the Eighties (five novels charted, as well as one book of non-fiction) but things mostly never change. Atkins, Paleo, and South Beach diet books sell big now, and in the Eighties there was the Rotation Diet, the Beverly Hills Diet, and even Miss Piggy telling people how to eat and that in order to avoid depression they shouldn't listen to music by any composers whose names begin with the letter D.
Novelizations are still big bestsellers, both now and then. Novelizations of Dune and Return of the Jedi charted big, but few novelizations were as huge as William Kotzwinkle's 1982 adaptation of E.T. the Extraterrestrial, which was that year's best-selling book. It's also deeply weird, with the author giving E.T. a sexual interest in Elliot's mother, as he spies on her while she sleeps, while she showers, and constantly refers to her as "the willow creature."
Likewise, Kim Kardashian's selfie collection, the Situation's memoirs, and Charlie
Sheen's poetry sell big numbers while more deserving books by actual authors languish in obscurity. Thus has it ever been. In the Eighties, Joan Rivers, Howard Cosell, Michael Jackson, and Shirley Maclaine all had bestsellers. Here are some timeless lines from that 1989 bestseller, Jimmy Stewart and His Poems, from "Beau", Stewart's poem about his dog:
Discipline was not his bag
But when you were with him things sure didn't drag.
He'd dig up a rosebush just to spite me,
And when I'd grab him, he'd turn and bite me.
It seems to be an eternal truth: celebrities will always write books. And they will always suck.
Grady Hendrix's previous novel, Horrorstör, was hailed by NPR as one of the best books of 2014. He lives in New York City.