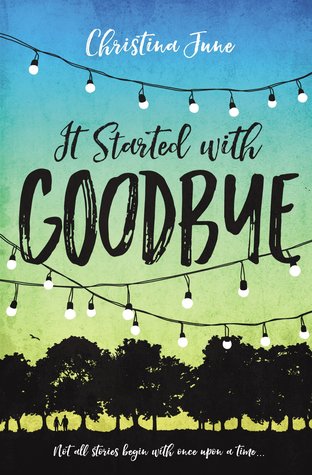 It Started With Goodbye
Author: Christina June
Genre: YA Contemporary
Release Date: May 9, 2017
Publisher: Blink
Description:
Sixteen-year-old Tatum Elsea is bracing for the worst summer of her life. After being falsely accused of a crime, she's stuck under stepmother-imposed house arrest and her BFF's gone ghost. Tatum fills her newfound free time with community service by day and working at her covert graphic design business at night (which includes trading emails with a cute cello-playing client). When Tatum discovers she's not the only one in the house keeping secrets, she finds she has the chance to make amends with her family and friends. Equipped with a new perspective, and assisted by her feisty step-abuela-slash-fairy-godmother, Tatum is ready to start fresh and maybe even get her happy ending along the way.
Praise for IT STARTED WITH GOODBYE:
"You won't be able to put this book down. This heartfelt read totally sucked me in. A (Prince) Charming read." -- Miranda Kenneally, author of Catching Jordan
"Tatum's complex and realistic relationships with her friends, family and the potential love interest will have you savoring every chapter while heavily anticipating the next. It Started With Goodbye is an adorable and clever contemporary that will enthrall you with its fairytale-esque charm." -- Ami Allen-Vath, author of Liars and Losers Like Us
"I loved this fun, contemporary take on the Cinderella tale that explores what it takes to be yourself while finding your place in life, love,and your family. June's characters are vividly drawn, complex people that you'll want to root for, and Tatum's story will strike a chord for anyone who's felt like they were misunderstood." -- Lisa Maxwell, author of Unhooked, Sweet Unrest and Gathering Deep
"A sweet and satisfying portrait of family, friendship, and discovering your own path. Tatum's journey from fear and disappointment to honesty and freedom to be herself is one that will resonate with many readers." -- Ashley Herring Blake, author of Suffer Love
"A fresh, charming debut, brimming with friendship, family, and love." -- Marci Lyn Curtis, author of The One Thing
"Honest, fun, and entirely compelling, this is a story about how being in the wrong place at the wrong time can lead to a whole lot of right. Tatum is a character you'll relate to, cheer for, and want to befriend." --Laurie Elizabeth Flynn, author of Firsts
10
Random Things about My College Years
1. I went to Virginia Tech—Go Hokies!
2. I had a class with Michael Vick.
3. I started as a business major and hated it.
4. I graduated as a psychology major and loved every minute.
5. I conducted psychology research with grad students.
6. I was in the co-ed fraternity Phi Sigma Pi.
7. I studied abroad in England & Scotland.
8. This trip fueled my love for all things UK, especially the Tudor wives.
9. I went to Rocky Horror Picture Show live most Halloweens.
10. I woke my roommate up by playing Rock Lobster by the B-52's loudly.
It Started With Goodbye is a young adult contemporary novel that fans of the genre are sure to enjoy. I personally don't read many books in this category, which is probably why I didn't connect with it as much as other readers will. The story had several great aspects including round characters, an interesting plot, and a solid writing style. The main character, Tatum, was realistic and I could identify with her early on in the book. She has many positive traits along with obvious flaws - both of which made her all the more realistic as a teenage main character. The secondary characters were decently rounded with distinct personalities to set them apart from others throughout the book.
The plot seemed to be pretty generic for a young adult contemporary novel, in my opinion. But then again, most titles in this genre fall into the same category. This is nothing personal against the author or the book - it's solely my own opinion, and I know other readers will really enjoy this novel. The writing style was great - the author chose to use the first person point of view, which is by far my favorite style. It generally allows the reader to connect on a deeper level with the narrator - in this case it was Tatum. Letting the reader really get to know the character and what goes on inside their heads is a wonderful aspect for any book and this was no exception. Of all the things I enjoyed about the story - this was definitely my favorite. Overall, this was a good novel that I would recommend to fans of young adult, contemporary, and romance.
Christina June writes young adult contemporary fiction when she's not writing college recommendation letters during her day job as a school counselor. She loves the little moments in life that help someone discover who they're meant to become – whether it's her students or her characters.
Christina is a voracious reader, loves to travel, eats too many cupcakes, and hopes to one day be bicoastal – the east coast of the US and the east coast of Scotland. She lives just outside Washington DC with her husband and daughter.
Her debut novel, IT STARTED WITH GOODBYE, will be published by Blink/HarperCollins on May 9, 2017.
(5) Winners will receive a Copy of IT STARTED WITH GOODBYE by Christina June
Giveaway is open to International. | Must be 13+ to Enter