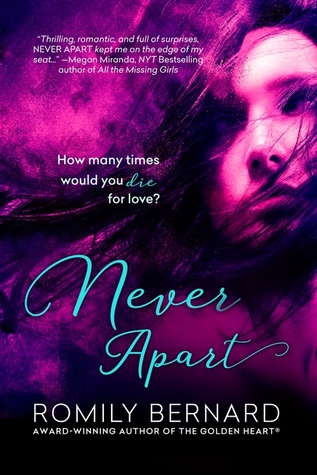 Never Apart
Author: Romily Bernard
Genre: YA Mystery/Romance
Release Date: October 3, 2017
Publisher: Entangled Teen
Description:
How many times would you die for love?

What if you had to relive the same five days over and over?

And what if at the end of it, your boyfriend is killed…

And you have to watch. Every time.

You don't know why you're stuck in this nightmare.

But you do know that these are the rules you now live by:

Wake Up.

Run.

Die.

Repeat.

Now, the only way to escape this loop is to attempt something crazy. Something dangerous. Something completely unexpected. This time…you're not going to run.

Combining heart-pounding romance and a thrilling mystery Never Apart is a stunning story you won't soon forget.
Never Apart
was everything I hoped it could be and more. I've read all of the author's other books and absolutely loved them, so when I read the description for this novel - I knew I had to read it. I admit I had high hopes and expectations for it going in - and I wasn't disappointed at all. If anything, I was happily surprised. This could easily turn into a rambling review where I try to explain all of the reasons I adored this book, but I don't want to do that. I'll attempt to keep myself in line. I just want to say that this is one of my favorite books this year and I can't recommend it highly enough.
Firstly, I have to say that there was nothing that I didn't love about this book. Every single aspect was incredibly well done - from the plot to the characters to the romance. Grace is a fantastic main character. She has lots of great traits - she's a loving sister and daughter, works hard in school, determined, and down to earth. She also has some flaws, like her shyness and feeling awkward all the time. It all made her feel very realistic and easy to connect with. I loved getting to know her on a personal level throughout the book. It made me feel like I was right alongside her as everything happened. The secondary characters - namely Jem, Ander, and Finn - were all rounded and realistic as well. I enjoyed watching their relationships with one another change and grow throughout the story. The relationships between these four characters are very complex and layered, and the author does a great job of showing that. Of course, there's the romance aspect of the book - kind of what is at the center of the plot. But I don't do spoilers in my reviews, so I sadly can't go into any of that without giving something away.
The plot was amazing. It was unique and original and definitely kept me guessing. I loved how it was a thriller/mystery mixed in with romance and some sort of supernatural element. It kept me guessing as to what was really happening and why, and when it's all revealed - I was stunned. I never saw it coming, which is something that doesn't happen very often for me - so I love it when it does. The last thing I want to mention is the author's use of the first person point of view. It's by far my favorite writing style, and I think it fit this novel perfectly. The story is told from Grace's perspective, so we get to be inside her head for the entire book. We learn her hopes, fears, dreams, emotions, memories, and everything in between - which I think made her all the more realistic and easy to identify with. Needless to say, I very highly recommend this book to everyone who's looking for something different - especially fans of young adult, mystery, thrillers, supernatural, fantasy, contemporary and romance.
Romily
Bernard graduated from Georgia State University with a literature degree. Since then, she's worked as a riding instructor, cell-phone salesperson, personal assistant, horse groomer and exercise rider, accounting assistant, and, during a very dark time, customer service representative... She's also, of course, now a YA novelist. So don't let anyone tell you a BA degree will keep you unemployed.
Romily
currently lives in Atlanta, Georgia. Her debut novel, Find Me, won the Golden Heart Award for YA Romance from the Romance Writers of America in 2012.
Hard cover of Never Apart by
Romily
Bernard