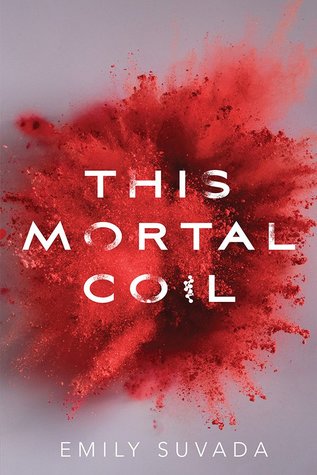 This Mortal Coil (This Mortal Coil #1)
Author: Emily Suvada
Genre: YA Science Fiction
Release Date: November 7, 2017
Publisher: Simon Pulse
Description:
In this gripping debut novel, seventeen-year-old Cat must use her gene-hacking skills to decode her late father's message concealing a vaccine to a horrifying plague.
Catarina Agatta is a hacker. She can cripple mainframes and crash through firewalls, but that's not what makes her special. In Cat's world, people are implanted with technology to recode their DNA, allowing them to change their bodies in any way they want. And Cat happens to be a gene-hacking genius.
That's no surprise, since Cat's father is Dr. Lachlan Agatta, a legendary geneticist who may be the last hope for defeating a plague that has brought humanity to the brink of extinction. But during the outbreak, Lachlan was kidnapped by a shadowy organization called Cartaxus, leaving Cat to survive the last two years on her own.
When a Cartaxus soldier, Cole, arrives with news that her father has been killed, Cat's instincts tell her it's just another Cartaxus lie. But Cole also brings a message: before Lachlan died, he managed to create a vaccine, and Cole needs Cat's help to release it and save the human race.
Now Cat must decide who she can trust: The soldier with secrets of his own? The father who made her promise to hide from Cartaxus at all costs? In a world where nature itself can be rewritten, how much can she even trust herself?
This Mortal Coil
is by far one of the best and most inventive science fiction/dystopia novels I've ever read. I was absolutely blown away when I learned that this is the author's debut. I would never have guessed in a million years. Her natural talent and effortless storytelling abilities shine through right from the beginning. I loved every aspect of this book - characters, plot, setting, and everything in between. The main character, Cat, was so easy to identify with right away. She's realistic - complete with flaws, mistakes, and great qualities, just like the rest of us. She has a huge role to play - one that will possibly effect the entire planet and save the human race. She's determined, smart, level headed, and will fight for what she believes is the right thing to do. I loved getting to know Cat throughout the story as her character grew and changed over time and circumstances.
The plot was original, which is hard to come by anymore. I have to admit I'm not a huge reader of science fiction, so I may have missed out on something similar, but for me it was amazing. The author created such a fascinating (not to mention terrifying) world and it felt completely realistic the whole way through. It actually made me stop to think about how this could possibly happen one day. It's a scary thought and put things in a new light when reading and seeing how Cat handles everything. The last thing - the most important thing for me - that I want to talk about was the writing style. It was awesome in pretty much every way. From the beginning words, the author had me sucked inside Cat's world and I didn't really come out until I had finished the whole thing (in one sitting). The amount of description, the immense attention to detail, and the incredibly vivid imagery blew me away. It was the first thing that grabbed me from the start and it never let me go. The author made every single thing feel real and like I was right there alongside Cat. I can't really explain how intense and believable the writing was. I guess it's one of those things you have to witness yourself. That's one of the big reasons I was so surprised to find out this is her debut. If this is just the beginning - what in the world is going to come next? I personally can't wait to find out - and the fact that this is just the first book in what promises to be a huge hit of a series is absolutely thrilling. I very highly recommend this novel to fans of YA science fiction, dystopia, and even contemporary and urban fantasy. Read this one - you won't regret it.
Emily Suvada was born and raised in Australia, where she went on to study mathematics and astrophysics. She previously worked as a data scientist, and still spends hours writing algorithms to perform tasks which would only take minutes to complete on her own. When not writing, she can be found hiking, cycling, and conducting chemistry experiments in her kitchen. She currently lives in Portland, OR, with her husband.
Links:
(1) copy of THIS MORTAL COIL by Emily Suvada - US Only