Sudden Traveler
Author: Sarah Hall
Release Date: October 8, 2019
Publisher: Custom House
Hardcover: 144 pages
Description:
"Sarah Hall is one of those rare writers whose short fiction has the same luminosity as her novels. But the short form allows her more room to probe and roam, to experiment with form, to sink her fingers into the earth."—The Observer (London)
Featuring her signature themes of identity, eroticism, and existential quest, the stories in Sarah Hall's third collection travel far afield in location and ambition—from Turkish forest and coastline to the rain-drenched villages of Cumbria.
The characters in Sudden Traveler walk, drive, dream, and fly, trying to reconcile themselves with their journeys through life, death, and love. Science fiction meets folktale and philosophy meets mortality. A woman with a new generation of pacemaker chooses to shut it down in the Lakeland, the site of her strongest memories. A man repatriated in the near east hears the name of an old love called and must unpack history's dark suitcase. From the new world-waves of female anger and resistance, a mythical creature evolves. And in the woods on the border between warring countries, an old well facilitates a dictator's downfall, before he gains power.
A master of short fiction, Sarah Hall opens channels in the human mind and spirit and takes us to the very edge of our possible selves.
Sudden Traveler is a new collection of short stories by award winning author Sarah Hall. This is the first book I've read of hers and happened to be short stories, which aren't always my strong point. I normally don't read short stories because they don't interest me the same way a novel does. I don't like the short amount of time spent with the characters and the plot, along with all the other aspects. So, I did start off with a bit of trepidation towards the book.
I honestly can't clearly tell you how I feel about the individual stories contained in the book. Most were incredibly weird and I was so confused trying to figure out if things were symbolic or not and if things were real or fake. The writing was well done, if you like that type of style. I'm not against it at all, and I think that if the stories had been done in a more common way, then I probably would've had a much better reading experience. That being said, the majority of the stories had me incredibly confused, my mind reeling, and at the end of each story I found myself asking "What in the heck did I just read?" The author's writing style is one that you instantly love or you read it enough times that you adjust to it and can begin to understand it more. However, for a first time reader like myself - not knowing what to expect - I was confused from the first story to the very last one. I don't like the feeling of not knowing what's going on - not like a mystery where you know it has to unravel over time - but just in general not knowing what was what. Was it symbolism? Was it realism? Or science fiction? Or just take it at face value and don't read into it so much. Like I said, this will be a great fit for fans of the author's other works and those who enjoy giving different types of writing a try.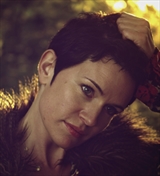 Sarah Hall was born in 1974 in Cumbria, England. She received a master of letters in creative writing from Scotland's St. Andrews University and has published four novels. Haweswater won the Commonwealth Writers' Prize (overall winner, Best First Novel) and a Society of Authors Betty Trask Award. The Electric Michelangelo was shortlisted for the Man Booker Prize, the Commonwealth Writers' Prize (Eurasia Region), and the Prix Femina Étranger, and was longlisted for the Orange Prize for Fiction. Daughters of the North won the 2006/07 John Llewellyn Rhys Prize and the James Tiptree Jr. Award, and was shortlisted for the Arthur C. Clarke Award for science fiction. How to Paint a Dead Man was longlisted for the Man Booker Prize and won the Portico Prize for Fiction. In 2013 Hall was named one of Granta's Best Young British Novelists, a prize awarded every ten years, and she won the BBC National Short Story Award and the E. M. Forster Award from the American Academy of Arts and Letters. Find out more about Sarah at her website, and connect with her on Facebook.