The Lying Room
Author: Nicci French
Release Date: October 1, 2019
Publisher: William Morrow Paperbacks
Paperback: 432 pages
Description:
In this thrilling standalone from the internationally bestselling author of the Frieda Klein series, a married woman's affair with her boss spirals into a dangerous game of chess with the police when she discovers he's been murdered and she clears the crime scene of all evidence.
One little secret between a married woman, her lover, and a killer.
It should have been just a mid-life fling. A guilty indiscretion that Neve Connolly could have weathered. An escape from twenty years of routine marriage to her overworked husband, and from her increasingly distant children. But when Neve pays a morning-after visit to her lover, Saul, and finds him brutally murdered, their pied-à-terre still heady with her perfume, all the lies she has so painstakingly stitched together threaten to unravel.
After scrubbing clean every trace of her existence from Saul's life—and death—Neve believes she can return to normal, shaken but intact. But she can't get out of her head the one tormenting question: what was she forgetting?
An investigation into the slaying could provide the answer. It's brought Detective Chief Inspector Alastair Hitching, and Neve's worst fears, to her door. But with every new lie, every new misdirection to save herself, Neve descends further into the darkness of her betrayal—and into more danger than she ever imagined. Because Hitching isn't the only one watching Neve. So is a determined killer who's about to make the next terrifying move in a deadly affair….

The Lying Room
is a twisty domestic thriller that fans of the genre are sure to enjoy. I haven't read any of the author's other books, so I didn't have any hopes or ideas going in. I've obviously heard of the author before, since one of my favorite genres is thrillers, so I guess I went in with a bit of a higher expectation than normal. It was a well written novel with complex characters and a tightly wound mystery that unravels nicely over the course of the book. I was left a little disappointed though. When you've read a ton of books in a certain genre, you've basically seen it all and it's hard to be surprised anymore. That's one of the problems I had with this novel which is completely my own experience and certainly won't be the case for other readers. The other issue I personally had with the book was the writing style. I almost always prefer the first person point of view, but this story was done in the third person POV from Neve's perspective. I never seem to connect as deeply with the narrator when the third person POV is used and that happened with this novel. Along the same lines, the first person allows me to lose myself inside the main character's world and inside the story itself, and this writing style just can't do that for me. So between not being to lose myself inside the story and really connect with Neve, this turned out to be just a good book for me - sadly I didn't enjoy it as much as I hoped I was going to. Again, these are just my own opinions and other readers aren't going to have the same thoughts or issues as I did, but I wanted my review to be truly honest and share my thoughts and experience with everyone. If you're a fan of this author or this genre, you should definitely give it a try.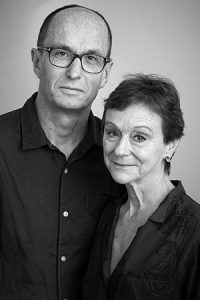 Nicci French is the pseudonym of English wife-and-husband team Nicci Gerrard and Sean French. Their acclaimed novels of psychological suspense have sold more than 8 million copies around the world.
Follow them on Facebook and Twitter.