Welcome to my stop on the blog tour for SIREN'S SONG! I have my review of the book to share with you today - and don't forget to check out the other stops on the tour!
Siren's Song (The Storm Siren Trilogy #3)
Author: Mary Weber
Genre: YA Paranormal/Fantasy
Release Date: March 1, 2016
Publisher: Thomas Nelson / HarperCollins

Rating: 5 Stars!
Synopsis:
Nym and Draewulf prepare to face off in a battle destined to destroy more lives than it saves.
With the loss of Tulla still fresh in mind, Rasha's fate unknown, and Lord Myles taken over by the dark ability, Nym and the few Bron soldiers rush to warn Cashlin's queen. Only to discover it may already be too late for the monarch and her eerie kingdom. As the Luminescents are sifting through Nym's past memories and the queen is reading into her future, Nym is given a choice of how to defeat Draewulf, but the cost may be more than she can bear. And even then there are no guarantees.
With that reality burrowing into her bones—along with the guilt of the lives she will sacrifice—Nym returns to her homeland of Faelen to raise an army of peasants through promises of freedom. But when the few friends she has left, along with the world and citizens she loves, are staring down the face of a monster and his undead army, will Nym summon every element her blood is capable of controlling . . . or surrender to a different strength—one of sacrifice?
Because in the end, death may be more merciful for them all.
Siren's Song
is the third and final book in the amazing young adult fantasy Storm Siren Trilogy. I've read and loved the first two books in the series, so I was both excited and wary of this final installment. I couldn't wait to see the final battle and to find out what else would happen. The first two novels were fantastic, which made me have pretty high hopes and expectations for this book. Luckily, the author finished the series just as thrilling as she began it. It definitely lived up to my hopes for it - and even went above and beyond some of my expectations. It was a fantastic finale to a truly captivating trilogy - which made it all the more bittersweet for me, because in part I wanted to see what happens and also because I was really bummed that this was the final book, and I wouldn't be diving into Nym's world any more.
Nym continued to be an awesome and strong female lead up to the very end. Even though she's matured and grown into herself and her abilities by now, I still loved watching her character change and evolve throughout the book. She's a seriously kick-ass heroine with awesome magic and tons of fantastic traits - like fighting for the people and their freedom. Honestly, I think she ranks up there with some of the other strongest leading ladies we've come across. The plot was as I expected - the epic final battle between Nym and
Draewulf - but there were some twists and turns in the story line that I wasn't expecting, some of which were real curveballs. The entire story was rich with detailed descriptions and vivid imagery - which made it incredibly easy for me to slip right back into Nym's world, almost like I never left. The world building is amazing and really brought the story to life in front of my eyes - to the point where I felt as if I was right beside Nym, experiencing everything as she did. The writing was solid and very well done, with complex characters and a vibrant setting that sucked me in from the very beginning of the first book. Overall, this was a great ending to a truly captivating trilogy - one that I know I'll be re-reading for a long time to come. Very highly recommended for fans of YA fantasy, paranormal, action, adventure, and magic!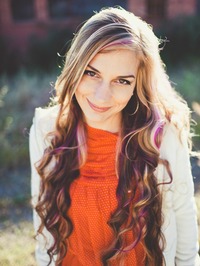 Mary Weber is a ridiculously uncoordinated girl plotting to take over make-believe worlds through books, handstands, and imaginary throwing knives. In her spare time, she feeds unicorns, sings 80's hairband songs to her three muggle children, and ogles her husband who looks strikingly like Wolverine. They live in California, which is perfect for stalking L.A. bands, Joss Whedon, and the ocean. Her debut YA fantasy novel, STORM SIREN and SIREN'S FURY are available now in bookstores and online, and SIREN'S SONG will be out March 2016 from TN HarperCollins.