Welcome to my stop on the blog tour for The Perilous Journey of the Not-So-Innocuous Girl! Today I'll be sharing my review of the book - and don't forget to enter the awesome giveaway! To follow the rest of the tour, click on the banner above.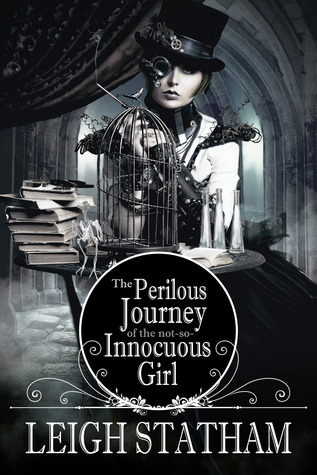 The Perilous Journey of the Not-So-Innocuous Girl
Genre: YA Fantasy/Science Fiction/Steampunk
Release Date: March 17, 2015
Description:
Lady Marguerite lives a life most 17th century French girls can only dream of: Money, designer dresses, suitors and a secure future. Except, she suspects her heart may be falling for her best friend Claude, a common smithie in the family's steam forge. When Claude leaves for New France in search of a better life, Marguerite decides to follow him and test her suspicions of love. Only the trip proves to be more harrowing than she anticipated. Love, adventure and restitution await her, if she can survive the voyage.
The Perilous Journey of the Not-So-Innocuous Girl
is a young adult novel that effortlessly blends several genres together to tell the story of
Marguerite - an upper class French debutante who has the kind of life that other girls can only dream of. Marguerite is the main character in the book. For a large portion of the book, she is spoiled, haughty, and doesn't do what she's told. Marguerite does have redeeming qualities too - she's intelligent, loves her father and her friends, and is definitely a free spirit with a bit of a wild streak. Her father is throwing her an official "coming out" ball so she can be formally introduced into society and begin looking at rich young men as possible husbands. Only Marguerite doesn't want it - the ball, the snotty families with their sons - who all have some sort of fault, and being paraded around like a prize animal by her father. That night, her best friend since childhood - Claude - tells her that his military orders have changed and he has to leave in the morning. Marguerite is heartbroken at the thought of losing Claude and (not surprisingly) she realizes that she's in love with him. He (of course) loves her too, but isn't good enough for her and nobody would allow them to be together. Marguerite has a huge fight with her father, which ends with him sending her away to a school for women like her. She wants nothing to do with this lifestyle and only wants to be with Claude. So (naturally), she hops on a ship and follows him to New France, so they can finally be together. The journey proves to be much harder than she expected, both physically and emotionally, but if she can make it to New France and Claude - she can finally be free.
As you can probably tell from my summary of the book, I found the plot to be rather mediocre and not very original. It's basically the story of two people in love, who are from completely different ways of life (the whole star-crossed lover thing), and the journey and obstacles they must overcome to be together. This type of story has been told a million times in a million different ways. This is no different - it's the same plot only it's been altered to the author's taste. I'm not saying that this is a bad thing - everyone loves reading about the star-crossed lovers, including me. I'm just pointing out that I thought the plot was pretty obvious and is one that has been written so many times that it gets lost among the others just like it. The writing was well done and had a natural flow. For some reason - and this is all on me and has nothing to do with the author or the writing itself - I just couldn't lose myself in the book. Usually I'm able to slip inside the world the author has created and completely immerse myself in it. That just didn't happen with this one. I can't pinpoint any specific reasons or issues I had - the writing just didn't grab me at the beginning.
Marguerite was an interesting main character for the book. She's defiant, a bit wild and reckless, but also caring, smart, and a loving daughter and friend. I was able to identify and empathize with her character throughout the book. She takes a lot of risks and faces tons of danger when she decides to follow Claude to New France. She basically leaves her entire life - which is a nice posh one - in order to follow her heart and to be with the guy she loves. I have to admit that I'm a romantic at heart and I always love these types of stories; where one person risks everything to be with the one they love. I'm a sucker for it every time - and this was no different. I loved watching Marguerite and Claude's relationship grow - from being childhood friends and then falling in love with one another. It might have been a bit cliched, but I liked it anyway.
The last thing I want to talk about concerning this book is the world the author created. This is one component of the story that blew me away completely. The story takes place in an alternate history - one filled with awesome steampunk gadgets and inventions. I don't often have the chance to read steampunk fiction, so I ate this up. The author did a magnificent job building this world and incorporating all the different aspects of both history and steampunk. I loved reading anything and everything about Marguerite's world - it all captivated me. There's such detailed descriptions of things - especially the steampunk inventions like the bots, Marguerite's cricket toy, and the aerships - to name a few. I felt like I could see these contraptions right in front of me as if I were there. Steampunk in general has always fascinated me and this book was full of it. Needless to say, I loved learning about everything that had to do with it - from the small things to the bigger and more impressive ones. Learning how they worked, what they looked like, and any other details about the devices had me truly enthralled. Honestly, it's because of this amazing world and the intense attention to detail that kept me reading this book. None of the other aspects seemed to grab my attention like the steampunk world blazing in front of me in all of it's shining glory. I feel like I'm not describing it right or using the right words to capture it, but I'm doing the best I can. It left me speechless and filled with wonder. Overall, this was a good book with a plot that was mediocre and a bit tired - but the writing and world building brought it back and gave it the spark I needed to stay interested. Recommended for fans of fantasy, science fiction, historical fiction, and those who enjoy steampunk.
Leigh Statham was raised in the wilds of rural Idaho, but found her heart in New York City. She worked as a waitress, maid, artist, math teacher, nurse, web designer, art director, thirty-foot inflatable pig and mule wrangler before she settled down in the semi-quiet role of wife, mother and writer. She resides in North Carolina with her husband, four children, five chickens and two suspected serial killer cats. If the air is cool and the sun is just coming up over the horizon, you can find her running the streets of her small town, plotting her next novel with the sort of intensity that will one day get her hit by a car.
Tour Wide Giveaway:
(3) Winners will receive a physical copy of The Perilous Journey of the Not-So-Innocuous Girl by Leigh Statham (Open INT!)
(3) Winners will receive a digital copy of The Perilous Journey of the Not-So-Innocuous Girl by Leigh Statham (Open INT!)