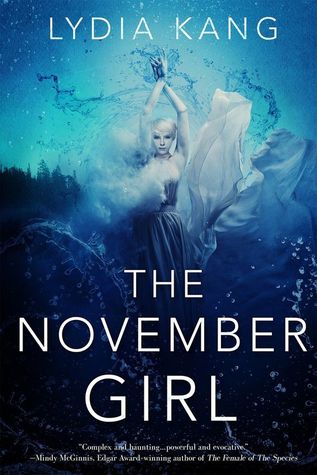 The November Girl
Author: Lydia Kang
Genre: YA Fantasy
Release Date: November 7, 2017
Publisher: Entangled Teen
Description:
I am Anda, and the lake is my mother. I am the November storms that terrify sailors and sink ships. With their deaths, I keep my little island on Lake Superior alive.

Hector has come here to hide from his family until he turns eighteen. Isle Royale is shut down for the winter, and there's no one here but me. And now him.

Hector is running from the violence in his life, but violence runs through my veins. I should send him away, to keep him safe. But I'm half human, too, and Hector makes me want to listen to my foolish, half-human heart. And if I do, I can't protect him from the storms coming for us.
The November Girl
is a truly original young adult novel unlike anything I've read before. The description had me eager to read this book and the world that the author wove inside its pages was magical. She brought it to life with detailed descriptions and vivid imagery - I felt like I was right on the island with Anda and Hector. The main characters - Anda and Hector - were fantastic. They were different in so many ways, but they were also the same in a lot of respects. They complemented one another and it made their connection intriguing. I liked watching their relationship grow and change throughout the story. It's basically the heart of the book itself, when it comes down to it.
Another thing I want to mention is the author's choice of writing style. The story is told in the first person, in Anda and Hector's perspectives, in alternating chapters. I am a huge fan of the first person POV and was so happy the author decided to use it for this story. I absolutely loved getting to know both Hector and Anda on a personal level throughout the novel. We get to really see inside their hearts and minds, and I think that's a really special connection for the reader to share with a narrator. It made them both feel more realistic to me and easier to identify with from the start.
I do have to admit that I was quite confused for a large part of the story. I couldn't (and still kind of can't) wrap my mind around who or what Anda is supposed to be. The descriptions of her are fantastic, but it wasn't enough to give me a finite definition of her character. I know that might not make sense, but if you read the book I think you'll understand. Because of this confusion on my part, the overall plot was a bit unclear as well. Overall, the story made sense and I could easily follow the story line. The story was well written and full of details and interesting happenings with both Anda and Hector. Other than my confusion about Anda, I really enjoyed the book and highly recommend it for readers looking for something fresh and completely different than anything else out there.
Lydia Kang is an author of young adult fiction, poetry, and narrative non-fiction. She graduated from Columbia University and New York University School of Medicine, completing her residency and chief residency at Bellevue Hospital in New York City. She is a practicing physician who has gained a reputation for helping fellow writers achieve medical accuracy in fiction. Her poetry and non-fiction have been published in JAMA, The Annals of Internal Medicine, Canadian Medical Association Journal, Journal of General Internal Medicine, and Great Weather for Media. She believes in science and knocking on wood, and currently lives in Omaha with her husband and three children.
Three (3) The November Girl Swag Packs