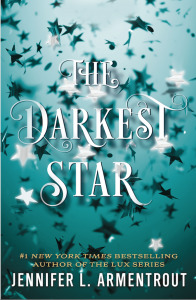 The Darkest Star (Origin #1)
Author: Jennifer L. Armentrout
Genre: YA Science Fiction
Release Date: October 30, 2018
Publisher: Tor Teen
Description:
When seventeen-year-old Evie Dasher is caught up in a raid at a notorious club known as one of the few places where humans and the surviving Luxen can mingle freely, she meets Luc, an unnaturally beautiful guy she initially assumes is a Luxen...but he is in fact something much more powerful. Her growing attraction for Luc will lead her deeper and deeper into a world she'd only heard about, a world where everything she thought she knew will be turned on its head...

#1 New York Times, USA Today, and internationally bestselling author Jennifer L. Armentrout returns to the universe of the Lux in this brand new series, featuring beloved characters both new and old.
The Darkest Star is the thrilling first book in a new YA science fiction series that fans of the author and the genre are definitely going to want to get their hands on. Before I start, I want to make a confession: I haven't read the original Lux series. I know, I know. I've heard nothing but amazing things about it, but I just haven't gotten around to it. Since this is kind of a spin-off series, and given how much I adored this book, I know I have to go read them as soon as possible. That being said, I have to break this down into what I loved the most about this book because this is one of those novels where I could ramble on forever about why I loved it so much. Because I did - so, so much.
Characters: I adored Evie as the main character. The story is told from the first person point of view, from Evie's perspective. We really get to know her on a deep level because of this writing style, which I loved. We get to know her innermost thoughts, hopes and fears, dreams and doubts, memories, and so much more. I immediately connected with her from the very beginning of the story. I also have to talk about Luc, the other major character in the novel. He's a bit more complicated for me to explain. Don't get me wrong - I loved him. Definitely book boyfriend material - and I don't usually do that whole thing. Luc is very self-assured, cocky, smug, and can be a bit mean at times. He's got the bad boy thing going all the way. But then there's the other side we get to see - where we learn about his horrible past and the reason why he's so interested in Evie, even though it seems like he doesn't even like her for most of the time. He's the classic bad boy with a heart of gold and I almost never fall for guys like these in books. I never see the appeal. BUT I totally fell for Luc. I don't even know why. It's kind of like with Evie and her feelings for him - he's confusing and annoying and can be a jerk, but there's some pull there that can't be explained or ignored. And I definitely felt that way while reading. I was rooting for them the whole time and was so happy how the story ended.
Story: The main thing I think I loved about the book was the characters and their relationship, but the story itself was really interesting and I loved learning about the Luxen, their history, their powers, and everything else involving them. As I mentioned, I haven't read the original Lux series, so I wasn't familiar with the Luxen before reading this book. I found them fascinating and I can't wait to learn more about them and about what's coming in the second installment. There's a pretty big surprise in the novel, but I figured it out way before it's revealed. I think it was because there's a lot of hints, clues, and foreshadowing happening - to the point I felt like it was completely obvious. Besides figuring out the big twist, there were other smaller twists that intertwined with the major one that I didn't see coming and made the story all the more interesting. Although they felt small compared to the "big reveal" they made a big impact on the characters and the plot itself. I'm excited to see where all the characters will fit in during the next book.
Series: Another huge thing I love is that this is just the start of a new series. I think I would've cried if this was just a stand alone. I want - no, NEED - more of this story. I need more Luc. I want to get to know him better and get to know Evie and the others better too. I want to watch Luc and Evie's relationship develop and grow into what's possible between them. (Cue a bit of swooning.) Anyways, I'm done rambling because I could keep going forever and not make any sense. If you were a fan of the Lux series - you need this book. If you're a fan of the author's - you need this book. I definitely also recommend it to fans of YA science fiction, fantasy, dystopia, romance, and aliens. READ THIS BOOK NOW. You won't regret it.
*A huge thank you to Bookish First for hosting the giveaway for this book that I was able to win a copy!*